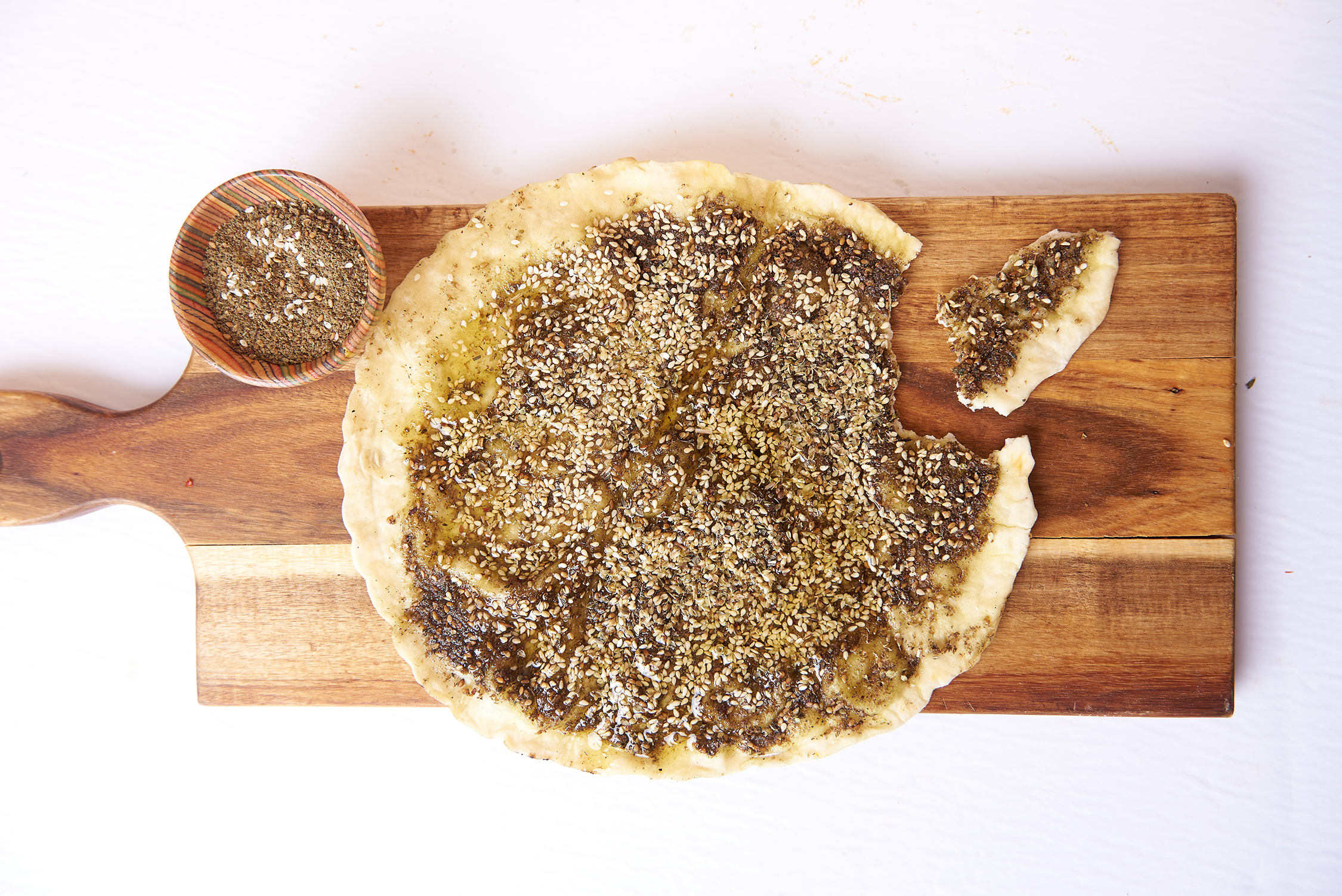 Za'atar Saj
Courtesy of Les Saj
INGREDIENTS
Flat Bread
2 tsp active dry yeast
1 Tbsp sugar
1 1/4 cups warm water
(about 110 to 115°F)
3 1/2 cups all purpose flour
1/2 tsp salt
oil, for coating dough
olive oil
1 Tbsp za'atar spice
Za'atar
1 Tbsp thyme, crushed
1 Tbsp oregano, crushed
1 Tbsp cumin
1 Tbsp coriander
1 Tbsp sesame seeds, toasted
1 Tbsp sumac
1/2 tsp salt
METHOD
Flat Bread
1. Put yeast in 1/4 cup of the water; add sugar and let stand for 10 minutes. Sift flour and salt into a warm bowl. Form a well in the center. Pour in yeast mixture and remaining warm water.
2. Begin to mix by hand, adding remaining flour as needed. Turn out onto a floured surface, and knead for about 10 min, until smooth and no longer sticky.
3. Oil a large bowl. Place dough in bowl, and turn to coat with oil.
4. Cover with a damp cloth, and put in a warm place free of drafts for 1 1/2-2 hours. Dough should be doubled in bulk. Knead for a few minutes then divide into balls about 2 1/2 inches in diameter. Roll balls into circles on a lightly floured surface with floured rolling pin, or flatten into circles with hand.
5. Flip the flattened dough on a curved hot surface (similar to an upside down wok). Bake for less than a minute on one side, then flip to cook the other side.
6. Mix za'atar and olive oil. Spread on a warm saj bread.
Za'atar
Combine all ingredients and store in an airtight container at room temperature.