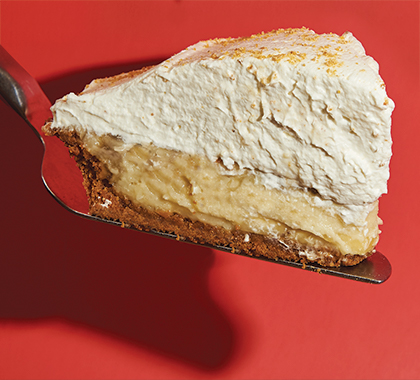 The Oakwood – Chefs John Lindenbach and Wendy May
Banana Cream Pie
Find Wendy's graham wafer crumb crust recipe on ciaowinnipeg.com.
INGREDIENTS
Pie Crust
255 g flour
83 grams cold butter cubed
45 grams lard or vegetable shortening
pinch of sugar
ice cold water
Pie Filling
1/2 cup 35% cream
1/2 cup
3 1/2 gelatin sheets
2 Tbsp cornstarch
3 eggs
2 ripe bananas mashed
2 ripe bananas sliced
Chantilly Cream
3 cups 35% cream
2 tsp vanilla
2 Tbsp sugar
METHOD
Chantilly Cream
1. In the bowl of a stand mixer, add cream, sugar and vanilla, mixing on medium high until cream holds stiff peaks. Set aside until ready to use.
Pie Crust
1.  Place flour, butter, sugar and lard in food processor, pulsing until mixture resembles coarse crumbs.
2. With machine running, add water a bit at a time until the mixture comes together in a ball
3. Wrap in plastic and flatten into a disc, then refrigerate 30-40.
4. Remove from fridge and roll to 1/4" thickness between two pieces of parchment or on a very lightly floured surface.
5. Place into 10" pie tin, gently press into bottom and sides of pie tin amd trim excess around the edges . Rest in fridge a further 20 minutes.
6. Blind bake shell until crust light golden. Cool while filling is being made.
Pie Filling
1. In a medium heavy bottomed pot, heat cream and sugar to a full simmer.
2. In a medium bowl combine the remaining sugar, cornstarch and eggs. Whisk well to combine.
3. Mash 2 bananas and set aside.
4. Slice 2 bananas and set aside.
5. Temper egg mixture with hot cream taking care to stir constantly as you add the cream.
6. Carefully pour mixture back into pot, stirring constantly.
7. Over medium low heat, cook until mixture comes to a hard simmer, being careful not to bring to a full boil. Remove from heat.
8. Bloom gelatin sheets by fully submersing in cold water. Leave up to 5 minutes then remove from water gently squeezing out the excess.
9. Add gelatin to the hot mixture stirring to fully dissolve, then add the mashed banana mixture and stir to combine.
Assembly
1. On the bottom of the baked pie shell, cover with single layer of sliced banana, then add custard mixture on top.
2. Place remaining banana slices on top of custard in single layer.
3. Cover with plastic wrap pressed gently onto the surface and refrigerate until set.
4. Using an offset spatula, spread a thin even layer of whipped cream over the surface of the pie right to the edge of the crust.
5. Mound remaining whipped cream onto the pie and swirl into an abstract pattern.
6. Keep in fridge until ready to use.
Will keep 3-4 days if covered so the cream doesn't dry out.
Yield 1 pie