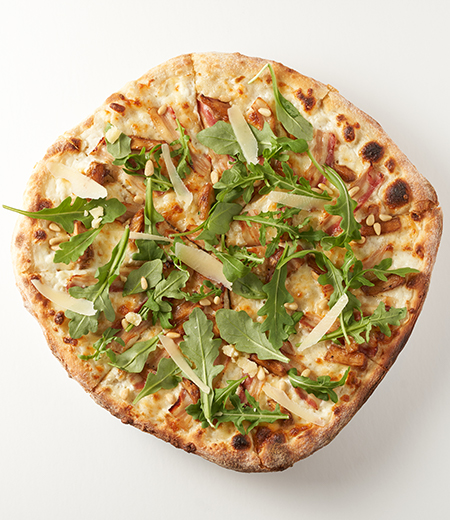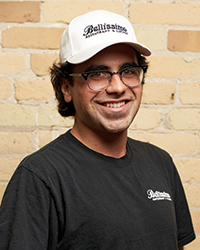 Bellissimo – Chef Anthony Gagliardi
Classic Hawaiian pizza is elevated to new heights. Grilled pineapple's sweetness is amped with vanilla and brown sugar. Salty pancetta crisps as it bakes and releases its fat to enrich the crust. It all comes together over a subtle garlic cream sauce, a clever and complementary substitution for traditional tomato sauce.
Bianco Pizza
INGREDIENTS
Pizza Dough
1 cup flour
1/2 cup water
1 Tbsp extra virgin olive oil
1 tsp yeast
1 tsp sugar
Garlic Cream Sauce
1 Tbsp butter
1 tsp garlic, chopped
1 cup heavy cream
1 cup half and half cream
1 tsp salt and white pepper
Vanilla Grilled Pineapple
1 whole pineapple, trimmed and sliced into rings
1 tsp vanilla paste (available at De Luca's Specialty Foods)
2 Tbsp brown sugar
Toppings
4 Tbsp garlic cream sauce
3/4 cup mozzarella
1/3 cup vanilla grilled pineapple
12 slices pancetta
1 Tbsp pine nuts
1 handful arugula
1 Tbsp pecorino, grated
METHOD
Dough
1. Mix lukewarm water, yeast and 1 tsp of sugar. Let stand for five minutes.
2. Add flour, water, yeast mixture and oil to stand mixer.
3. Mix for 3 minutes, let rest for 1 hour or until double in size.
Garlic Cream Sauce
1. Melt 1 Tbsp butter in saucepan over medium-high heat and sauté garlic for 1-2 minutes.
2. Add heavy cream, half and half and cook down to reduce, about 20 minutes, stirring occasionally.
3. Add salt and pepper to taste.
Yield 1 1/2 cups. Store in fridge up to five days.
Vanilla Grilled Pineapple
1. Combine vanilla paste and brown sugar in a bowl and toss with pineapple rings until coated.
2. Place pineapple rings on grill until slightly charred. Let cool.
3. Slice pineapple into 1" chunks.
Pizza
1. Preheat oven to 425°F.
2. Roll dough into 12" circle and spread with garlic creme sauce.
3. Sprinkle mozzarella, pancetta and pineapple evenly across pizza.
4. Bake for 8-12 minutes, until cheese is melted.
5. Garnish with arugula, pine nuts and grated pecorino.
Yield 1 pizza