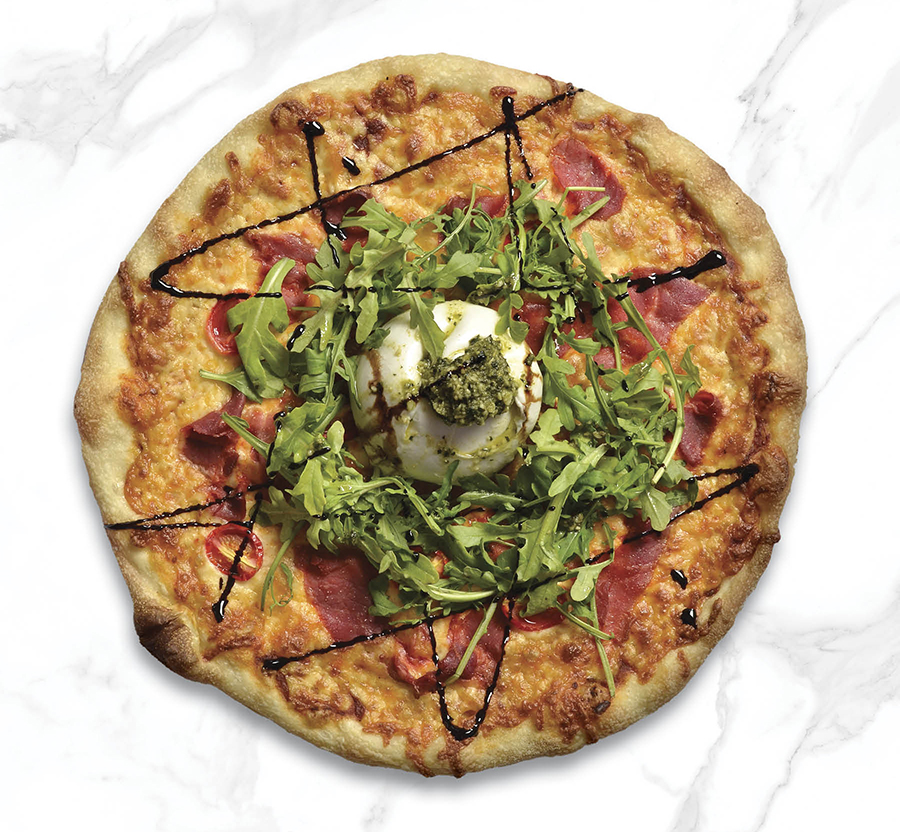 Burrata Pizza
Courtesy of Chef Dann Carlo Ignacio – Little Nana's Italian Kitchen
INGREDIENTS
Dough
1 1/2 tsp active dry yeast
1 tsp honey
1 cup water
1 tsp kosher salt
4 Tbsp olive oil
3 cups all purpose flour
Pizza Sauce
1 can San Marzano tomatoes
(250 grams)
3 Tbsp of kosher salt
Pizza
1 pizza dough (see pg 18)
5 Tbsp pizza sauce
1/2 cup shredded mozzarella
6 cherry tomatoes, cut in half
8 slices of prosciutto
Garnish
1 cup arugula
balsamic glaze
1 Burrata ball
1 Tbsp pesto
METHOD
Dough
1. In a small bowl, mix active dry yeast, honey, and 1/2 cup of water. Let it sit for at least 15 minutes.
2. In another small bowl, mix the remaining ingredients.
3. Gradually add the yeast mixture to the flour mixture.
4. Knead the dough until smooth and not sticky.
5. Cover with a damp towel for 2 hours.
6. Portion the dough to your desired size.
7. Roll the dough until it forms a ball.
8. Wrap the dough with plastic wrap and store it in the fridge.
Pizza Sauce
1. Using an emulation mixer blend the tomatoes and salt until smooth. 2. Transfer into a container and refrigerate until ready to use.
Pizza
1. Preheat the oven to 500°F.
2. Flour the surface and stretch the pizza dough until the desired size.
3. Place 5 tablespoons of pizza sauce in the middle and spread around to the edge.
4. Add mozzarella and spread it evenly.
5. Evenly distribute prosciutto and cherry tomatoes.
6. Bake for 14–15 minute until the crust is golden brown and the cheese has melted.
7. Slice the pizza and place the arugula in the middle. Top the arugula with Burrata and pesto.
8. Garnish with a drizzle of balsamic glaze.
Yield 1 pizza