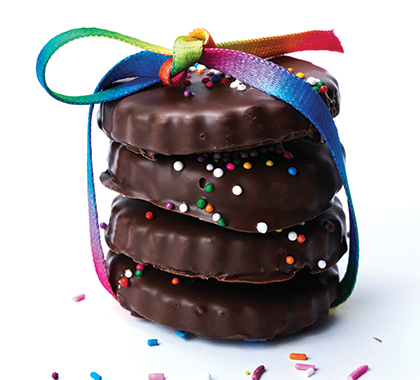 Cocoabeans Bakeshop – Betsy Hiebert & Dee Burdeny
Cake Truffles
For an even fudgier flavour, add 1/3 cup of sifted cocoa powder to the vanilla frosting
INGREDIENTS
Chocolate Cake
Cocoabeans chocolate cake mix
2 Nature's Farm eggs
1 tsp pure vanilla extract
1 can of coconut milk
1 1/2 cups water
Vanilla Frosting
3-4 cups icing sugar
1 cup coconut oil, softened
1 cup butter, softened
cookie cutters
pinch of salt
Chocolate Dip
3-4 cups chocolate melting wafers
METHOD
Chocolate Cake
1. Preheat oven to 350ºF. Follow instructions on chocolate cake mix.
2. Once cooled completely, crumble your cake so it resembles small pebbles.
Vanilla Frosting
1. Using a hand or stand mixer, mix coconut oil and butter until light and fluffy.
2. Add icing sugar to desired sweetness and continue mixing until all ingredients are well incorporated.
3. Add vanilla extract and a pinch of salt to tame sweetness.
Assembly
1. Mix about 1/2 – 3/4 cup of frosting with cake pebbles, adding more if it's not soft enough. Your cake and frosting mix should look similar to a playdough.
2. Shape into balls, then flatten out and use cookie cutters to create desired shapes.
3. Place on a baking tray and put in the fridge for 1/2 a day to firm up or pop in the freezer for 2-3 hours.
4. Melt chocolate wafers. It needs to be a runny consistency so it will coat your cake truffles seamlessly.
5. Dip cooled cake mixture into the melted chocolate and place on cookie racks to cool.
6. Allow to firm up and serve. May be kept in the freezer in a sealed container for a month or more. 
Yield 24-36 truffles