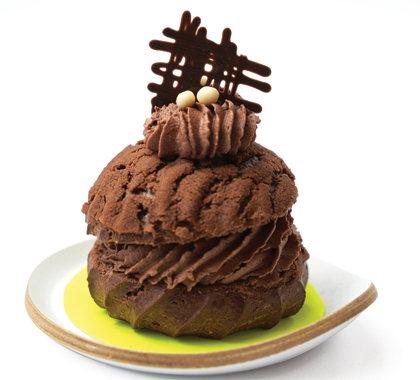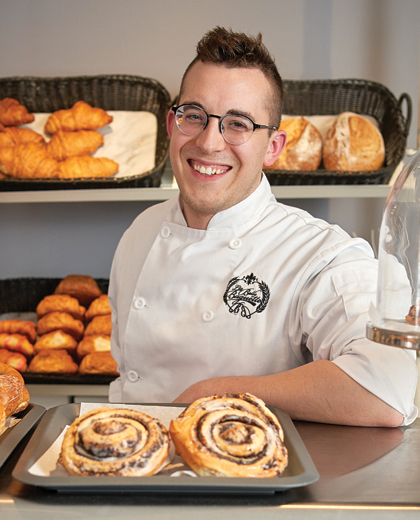 Caramel Chocolate Cream Puff
Ready-made salted caramel sauce adds a hidden pop of rich sweetness to bittersweet cocoa. 
INGREDIENTS
Chocolate Choux Pastry
2/3 cup milk
2/3 cup water
1/2 tsp salt
1/2 tsp granulated sugar
1/3 cup + 2 Tbsp butter
2/3 cup all purpose flour
1/4 cup cocoa powder
4 eggs, room temperature
Chocolate Cream
1/2 cup cocoa powder
1/2 cup icing sugar
3 cups heavy whipping cream, chilled
jar of salted caramel
METHOD
Chocolate Choux Pastry
1. Preheat oven to 375ºF and line a baking tray with parchment paper or with a silicone baking mat.
2. Sift flour and cocoa powder together in a bowl and set aside.
3. Crack your eggs into another separate bowl and set aside.
4. Combine milk, water, salt, sugar and butter in a saucepan and bring to a boil. Once the mixture is boiling, remove from heat.
5. Add the flour mixture all at once and stir it in with a wooden spoon. Return the saucepan to the heat, and on medium-low heat, continue to stir for around 2 minutes until it all comes together.
6. Remove from heat and transfer the batter to the bowl of a stand mixer equipped with a paddle attachment. Beat on low to release any extra heat from the dough.
7. While the dough is beating, add the previously cracked eggs one at a time. Depending on how long you cooked your initial dough, you might not need to add all the eggs. Your dough will be ready when you have a creamy yet elastic consistency.
8. Transfer finished dough to a piping bag fitted with a 14 mm round pipping tip.
9. Pipe out 6 cm wide rounds, leaving 2-3 cm in between them. Bake for 30-45 minutes. Do not open oven door during baking to avoid the cream puffs from collapsing.
Chocolate Cream
1. Sift together icing sugar and cocoa in a bowl. Set aside.
2. Using a stand mixer or hand mixer with whisk attachment, whip up the cold cream past the bubbly stage. When it starts to thicken, slowly add cocoa mixture to the cream, turning the machine off while adding.
3. When cream becomes a thicker consistency, transfer to a piping bag equipped with a star tip and place in refrigerator until ready to use.
Assembly
1. With a serrated knife, cut off top third of puff horizontally.
2. While holding the piping bag vertically, pipe a circle of chocolate cream on the bottom part of the choux. Layer 2 more circles on top to create a hollow structure of cream.
3. Pipe some caramel into the centre, filling the cavity.
4. Place the top part of choux on the cream. Pipe a rosette of the same chocolate cream on the top for decoration. Keep chilled until served.
Yield 10 cream puffs