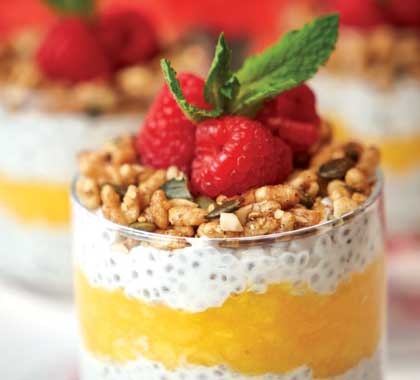 Chia Seed Pudding with Fresh Mango Jam, Berries & Puffed Rice Granola
This vegan breakfast pudding tastes like a treat but packs a nutritious punch!
INGREDIENTS
Puffed Rice Granola
(Makes 5 cups)
1/3 cup olive oil 1/2 cup maple syrup
1/3 cup brown sugar 1 tsp salt
1 tsp cinnamon, ground 1/2 tsp cardamom, ground 4 cups organic puffed rice cereal 1/3 cup pumpkin seed 1/2 cup raw skin-on almonds, roughly chopped 2 Tbsp white sesame seeds
Fresh Mango Jam
3 ripe but firm mangoes
sugar to taste
lime juice to taste
Chia Seed Pudding
1 cup raw cashews
1/3 cup banana chips
2 tsp salt
1/3 cup maple syrup
1/4 cup coconut oil
4 1/2 cups water
1/2 cup plus 1 Tbsp chia seeds
METHOD
Puffed Rice Granola
1. Preheat oven to 325°F.
2. Mix puffed rice, almonds, pumpkin seeds and sesame seeds in a large stainless mixing bowl.
3. Mix olive oil, maple syrup, salt, sugar and spices in a pot, place over high heat and bring to a boil. Pour this mixture over the rice, seeds and nuts and stir well until evenly coated. Pour contents of the bowl onto a parchment lined sheet and spread out evenly.
4. Bake for 20 minutes, then stir well and bake for another 15-20 minutes until the mixture is golden brown. Cool at room temperature.
Fresh Mango Jam
1. Peel mango and cut flesh into an 1/8 inch dice, then season with sugar and a bit of fresh lime juice to taste. Mix well.
Chia Seed Pudding
1. Cover cashews with water and soak overnight in the fridge.
2. Drain cashews, then blend with banana chips, salt, maple syrup, coconut oil, and water in a high speed blender for 3-4 minutes until completely smooth. Strain mixture into a large mixing bowl and whisk in chia seeds. Put the bowl into the fridge and stir the mix every 30 minutes or so for a few hours. Let rest overnight.
Assembly
1. Layer pudding with mango jam in desired serving vessels and top with granola and berries.
Yield 6 servings