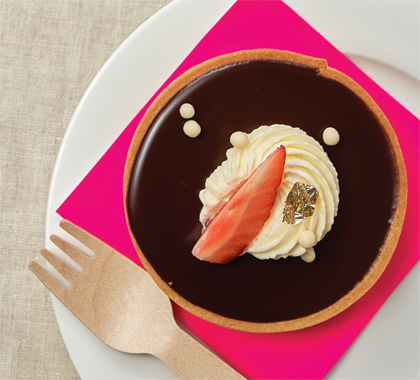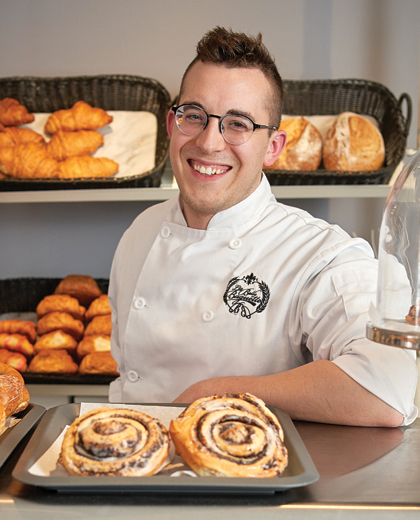 Chocolate Ganache Tart

A fresh strawberry garnish accentuates the sweetness of this tart's ultra smooth dark chocolate ganache.
INGREDIENTS
Tart Shell
2 cups all-purpose flour
1/2 cup butter, softened
3/4 cup icing sugar
pinch of salt
1 egg
Ganache
1 1/4 cup heavy cream
1 1/2 cup dark chocolate, chopped
1 Tbsp butter
Assembly
whipping cream
fresh fruit
METHOD
Tart Shell
1. In a bowl, cream butter and icing sugar with a spatula to get a smooth mixture. Stir in egg and keep mixing.
2. Combine the salt with flour, then add flour mixture to egg mixture, creating a smooth and uniform dough.
3. Shape into a flat disk, wrap tightly in plastic wrap and refrigerate for a minimum of 30 minutes.
4. To shape the shells, unwrap chilled dough and place on a lightly floured surface. Roll it out, while adding more flour to keep from sticking. The dough should be around 3 mm thick.
5. Cut out a piece of dough a little wider than your tart ring in order to have enough dough to go up the sides of the mold. Make sure dough is pressed against sides and corners properly.
6. Use a fork to pierce holes on the bottom of the shell before placing it in a 375ºF oven for 15-20 minutes or until the crust is nice and golden.
Ganache
1. Place chopped chocolate in a bowl with the butter.
2. In a heavy saucepan, bring the cream to a boil. As soon as it starts to boil, pour cream over the chocolate in the bowl. With a rubber spatula, stir the mixture with a circular motion in the centre of the bowl until the mixture comes together to create a silky filling.
Assembly
1. Immediately pour ganache in cooled tart shells and place in the refrigerator to set.
2. Once tarts are set and ready to serve, decorate with whipping cream, chocolate decorations and fresh fruit.
Yield 6 tarts