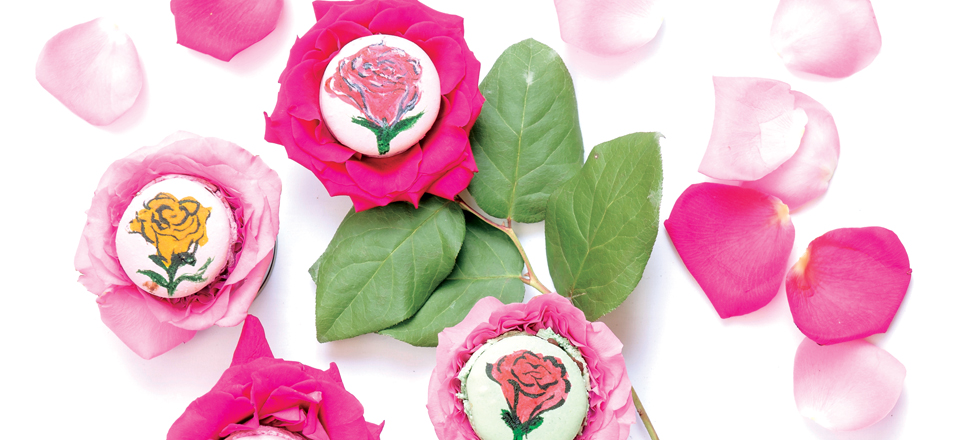 Pastry Chefs Betty Lai and Douglas Krahn
Chocolate Zen Bakery

Dark Chocolate Ganache
1 1/2 cups dark chocolate
2 cups heavy cream
1/4 cup icing sugar
1/8 tsp salt
METHOD
French Macaron Shells
1. Preheat oven to 325°F. Sift almond flour and icing sugar together.
2. Place egg whites into mixer and mix on high until foam forms. Slowly add sugar and mix until thick and glossy.
3. Fold almond mixture into egg whites in three stages. Add food colouring until desired colour is reached.
4. Once mixture ribbons off spatula, transfer into piping bag fitted with 1/4″ circle tip.
5. Line baking sheet with parchment paper. Pipe 1/4″ circles, tapping pan on surface to get rid of extra air. Bake for 12 min.
Dark Chocolate Ganache
1. Melt chocolate in microwavable bowl.
2. In a saucepan on high, combine heavy cream, icing sugar and salt and bring to boil. Add chocolate and let sit for 1 min, then whisk until smooth.
3. Refrigerate for approx. 1 hour.
4. Transfer into piping bag with round or star tip. Pipe onto shell making sure not to overfill. Top with another shell.
5. Use food colouring and food safe brush to decorate.
Yield 28 macarons