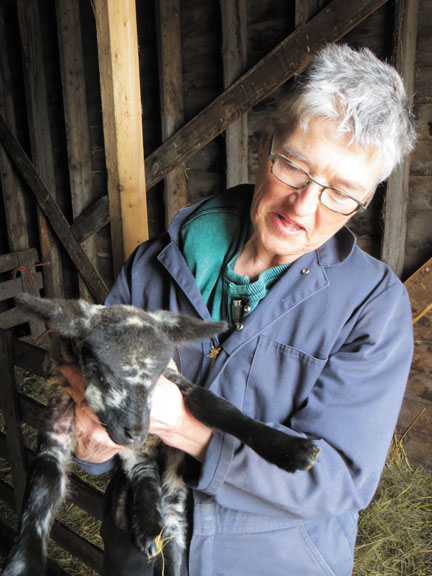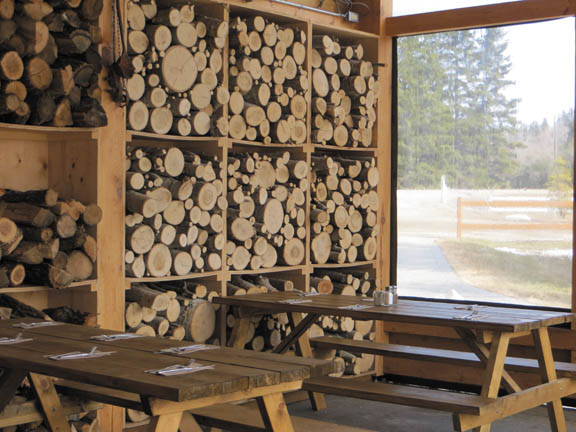 Field Notes
A food tour of Canada's breadbasket
by Michael Bouliane
Every summer, hordes of Winnipeggers head directly to the lake North or East of the city. But many food enthusiasts head due West – toward Manitoba's great plains and Western hills. It is here, in the heart of Canada's breadbasket, that you can see where your food comes from and, only a few steps away, enjoy fantastic meals showcasing the same ingredients.
Start your farm to fork weekend road trip by heading west on Highway 2 and, for the next two hours, simply soak in the beauty of the Canadian prairies. In every direction, fields of bright yellow canola, steel blue flax and golden wheat stretch into the horizon. Rusty freight trains crawl past century old farmhouses and crumpled wooden barns.
Just south of Holland, nestled into the serene countryside of the Pembina Valley, French-speaking Trappist monks at Nôtre-Dame des Prairies monastery are hard at work producing world class artisanal cheese with a recipe dating back to 18th Century France.
Wheels of unpasteurized cow's milk and rennet are cellar-aged for two months, their rinds washed with salt water every day. The result is Reblochon: a soft, nutty cheese used in traditional Northern French cuisine.
As the only place in Canada that makes Reblochon, the monastery produces 30 wheels a week to be distributed across North America, and shows up in some of Winnipeg's top restaurants, such as in the tartiflette at Chez Sophie. Aside from dairy production, the monks also cultivate honey from an on-site apiary and tap maple syrup, both of which are available for purchase in the small boutique.
If time allows, steal a peek into the monastery chapel, where you can observe the hypnotic Gregorian chants reverberating through the old wooden interior.
Continue West on Highway 2 and then North on Highway 10, and continue  an hour north past Brandon. At the edge of Riding Mountain National Park, Elkhorn Resort's Mountain Grill is a great place to sample regional cuisine. Born and raised in Western Manitoba, Red Seal Chef Chad Robinson (formerly of Fairmont Banff Springs and Bistro 7 ¼), has recently returned to his roots, which he celebrates on his ultra-seasonal, locally-sourced menu. Brightly coloured shells house pickerel tacos, which are filled with pan-fried nuggets of Manitoba's freshwater gold. A generous cut of beautifully marbled Berkshire pork rack is juicy and full of flavour. The rich filling of the accompanying sweet potato pie contrasts its light, flaky pastry.
Slow roasted bison short rib is tender, lean and accentuated by a rich red wine shallot reduction. A tart parsnip pave and sweet vanilla five spice squash puree complete the dish.
Agri-tourism meets culinary tourism at Fairmont Bed & Breakfast, located on a beautiful 1914 homestead north of Minnedosa. For the full farm-to-table experience, culinary weekends are offered for groups of six or more, with host Susan Proven. The day will begin gathering vegetables from the garden, fruit from the orchard, and eggs from the henhouse. Under Susan's guidance, the group will prepare a muli-course seasonal dinner from scratch.   Seize the opportunity to bake both bread and pastries, learn to preserve, or create raspberry vinegar for vinaigrette. If commiting to a whole weekend isn't possible, call ahead to have something whipped up. Most meals feature the farm's own lamb and produce, though fresh trout or beef from neighbouring homesteads sometimes appears on the menu.
Breakfast features bacon and sausage from pigs raised just 3 kilometers away. Granola makes use of local oats, seeds and nuts sweetened with area honey and slow-roasted in small batches. Wheat flour is stoneground on a 140-year old farm down the road, and its texture elevates pancakes.
Nearby, Tyler and Julie Kaktins opened Foxtail Café across from Onanole's Red Barn farmer's market in 2013. With a crackling stone oven, old snowshoes and steel traps on cedar walls, and stacks of firewood, the breezy patio bar feels more like a mountain lodge.
A trained baker, Tyler's homemade breads are top notch, which account for the popularity of Foxtail Cafe's panninis. The chipotle chicken panini of succulent grilled chicken breast, bacon, sharp Bothwell cheddar, and smoky chipotle aioli is beautifully grilled between thick slices of crusty whole grain bread.
Other standouts include warm curry quinoa salad; loaded with seasonal vegetables and toasted cashews, it excites the palate with peppery cumin, sharp cilantro, and a refreshing apple lime salsa. Beef barley soup, with its rich broth, tender beef and al dente barley, is another excellent choice. Tables are hard to come by after 4pm. That's when Foxtail's wood-fired oven starts churning out Italian-style thin crust pizzas. Topped with house made chorizo and other fresh, locally-sourced ingredients, the pizzas pair nicely with a pint of Western Manitoba's own Farmery lager.
Having eaten your way through Western Manitoba, head back south on Highway 10 through golden wheat fields patterned by hay bales. Make your way West on Highways 16 and 26, on towards Winnipeg— sun-kissed, a little heavier, and more appreciative of the abundance of riches hidden here at home.