Hikes and bites…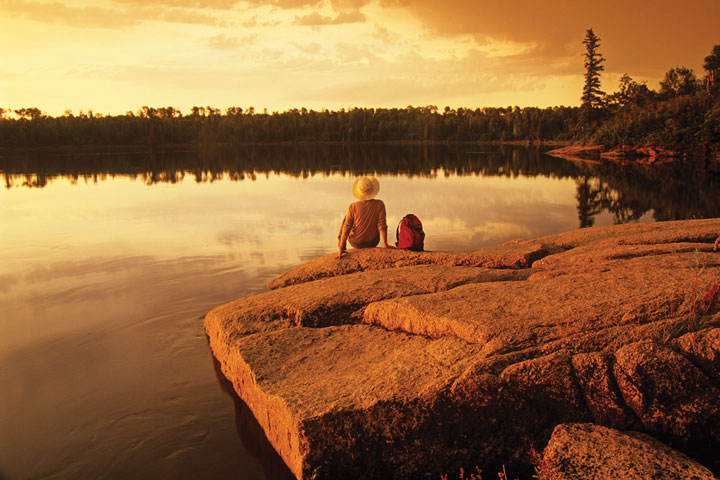 Roadtrip to Southeast Manitoba for a day
of grazing and trail blazing
by Erin Chatelain
Manitoba channels more than 100,000 beautiful flowing lakes and roughly 15 of them wind through the Whiteshell Provincial Park. Only an hour drive from city limits, this backwoods playground presents a network of rugged hiking corridors, rural eateries and a chance to reconnect with nature. Whether it's a shore-side nosh or a challenging trek through towering trees and the oldest rocks on the planet, Southeast Manitoba has roughly 20 lake-side resorts and 10 weaving hiking paths, including the world's longest trail, the Trans Canada, which stretches from Saskatchewan to Newfoundland, and offers countless breathtaking views. All hikes are self-guided and range in difficulty and length. Additional information, including trail maps can be found at whiteshell.mb.ca/hiking.html.
The East Treats
Travel past trembling aspens, bull rushes and romping young bucks on Hwy #1 to picturesque Falcon Lake Village. Start the morning at the log-styled Falcon Lake Bakery Bistro (204-349-8993) with fresh sticky cinnamon buns smothered in a caramel sauce. Cross the road with your sweet to a lakeside front row seat. Let the waves rippling on the lake lull you into a state of tranquillity.
Westhawk Walks  
Charming Westhawk Lake has many small streams and underground springs and is just ten minutes from Falcon Lake on Hwy # 44. Still in the town of Westhawk on historical Hwy # 1 Hunt Lake Trail spans 12.6 km and holds diverse quaint picnic hide-aways in its nooks and crannies. Advancing north, this backcountry trail leads to a private alcove equipped with wood stove and shelter. Watch your step as you navigate the rocky path lined with coniferous, white aspen and white pine trees. Notice the beaver bites on trees. This mystical scene astonishes as majestic bald eagles soar within the heights of immense rock faces and coy fawns camouflaged within the pines scamper by. Dip into Hunt Lake's luminous crystal-clear waters and behold the alpine-high view of the lichen-laden Canadian Shield with its unforgettable sky-reaching formation.
Enjoy the scenery overload until your belly growls then tuck into the Night Hawk Café (204-349-2580) and perch on the patio for a home-style rural lunch and a view of the luminous lake. Order the bison burger with all the fixings including hearty smoked bacon and a generous layer of melted cheddar cheese. Its 1/3 pound patty is tender and moist and the sweet house mustard sauce adds a light tang. Chicken noodle soup is savoury and impressive, offering big pieces of roasted chicken. Vegetarians will love the garden burger spiced with curry mayo and fresh sautéed mushrooms, creamy havarti and a mountain of crunchy yet soft, toothsome sweet potato fries.
Progress west on Hwy #44 to McGillvray Falls, a short 2.8 km trail with furnished rest stop. Breathe in the dew from the waterfall and enjoy the loud babbling brooks, lily ponds and chirping frogs. Depart to Hwy #44 to Rennie where you'll take a right on Hwy #307 (Laverendrye Trail) for dinner at Brereton.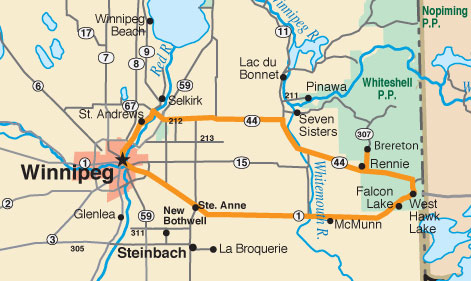 Contemporary Country
Time your arrival with the late day sun and serene Brereton Lake will glitter as you lounge from a patio seat at Brereton Lake Resort Restaurant (204-369-5352). Pine-crafted with a double sided fireplace, this resto evokes a modern country ambiance with its exquisite millwork. The wood bar is a cozy spot for sippers and the attached general store has everything from produce to fishing tackle.
Delectables on the menu include burgers, foot-long hot dogs, pizza, baby back ribs and nine types of sandwiches. Coconut shrimp battered in toasted coconut explode with a sweetmeat crunchy chew. Chow down on the fluffy pan-fried, locally caught walleye lightly seasoned with salt, pepper and butter. End your journey by breathing in the sweet gusts of balmy wind as they blow over the soothing lake.