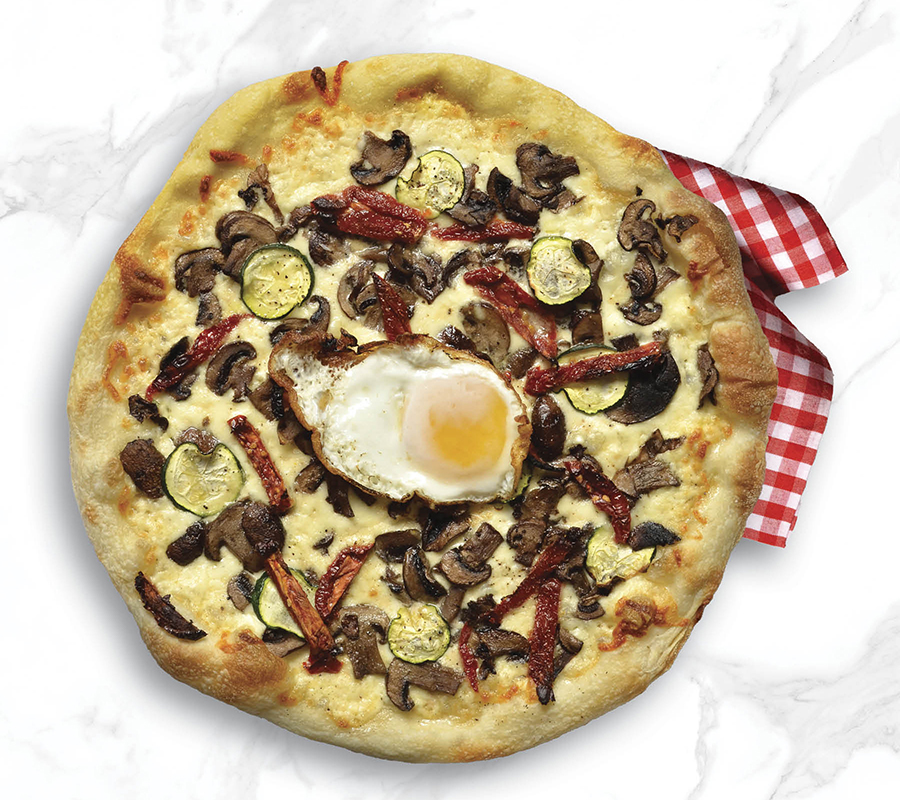 Florentine Pizza
Courtesy of Chef Dann Carlo Ignacio – Little Nana's Italian Kitchen
INGREDIENTS
Dough
1 1/2 tsp active dry yeast
1 tsp honey
1 cup water
1 tsp kosher salt
4 Tbsp olive oil
3 cups all purpose flour
Cream Sauce
4 1/4 cups whipping cream
4 1/4 cups chicken stock
1/4 cup flour
1/4 cup butter
Pizza
1 pizza dough
5 Tbsp cream sauce
1/2 cup shredded mozzarella
1/4 cup mushrooms
1/8 cup sundried tomatoes
16 slices of zucchini
Garnish
fried egg
salt and pepper
METHOD
Dough
1. In a small bowl, mix active dry yeast, honey, and 1/2 cup of water. Let it sit for at least 15 minutes.
2. In another small bowl, mix the remaining ingredients.
3. Gradually add the yeast mixture to the flour mixture.
4. Knead the dough until smooth and not sticky.
5. Cover with a damp towel for 2 hours.
6. Portion the dough to your desired size.
7. Roll the dough until it forms a ball.
8. Wrap the dough with plastic wrap and store it in the fridge.
Cream Sauce
1. In a small pot, melt the butter over medium heat until the foam dissolves.
2. Add flour and keep whisking until smooth.
3. Add whipping cream and chicken stock.
4. Reduce until it thickens to approx. 2 litres.
Pizza
1. Preheat the oven to 500°F.
2. Flour the surface and stretch the pizza dough until the desired size.
3. Place 5 tablespoons of cream sauce in the middle and spread around to the edge.
4. Add mozzarella and spread evenly.
5. Evenly distribute mushrooms, sun-dried tomatoes and zucchini.
6. Bake for 14–15 minutes until the crust is golden brown and the cheese has melted.
7. In a small pan, soft-fry an egg, salt and pepper to taste.
8. Slice the pizza and place the egg in the middle.
9. Break egg to create a natural sauce.
Yield 1 pizza