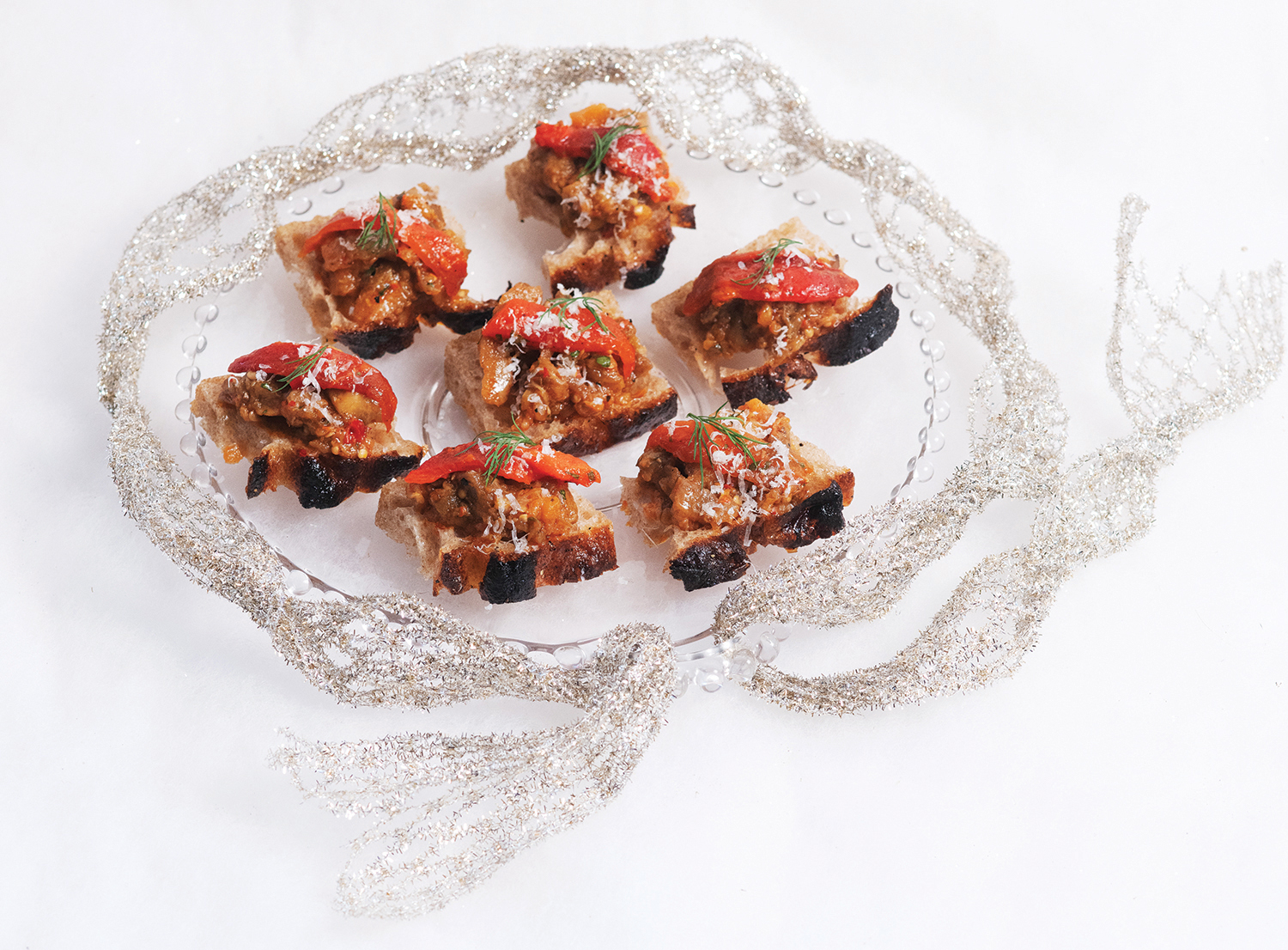 Focaccia & Eggplant
Courtesy of Cole Mospanchuk – Nonsuch Brewing Co.
INGREDIENTS
Focaccia Bread
1 1/2 cup all-purpose flour
1/4 cup whole wheat flour
1 1/2 cups lukewarm water
4 Tbsp active sourdough starter (available from Nonsuch)
1 tsp salt
3 Tbsp extra virgin olive oil
Eggplant
2 medium eggplants
4 large red peppers (approx. 2 lbs)
2 tsp red wine vinegar
6 Tbsp extra virgin olive oil
4 cloves minced garlic
1 Tbsp Calabrian chili
zest of 1 lemon
Garnish
fresh parsley, dill, and mint
freshly grated pecorino Romano
Maldon salt
black pepper
METHOD
Focaccia
1. Mix all flour and water in a large bowl to form a shaggy dough, being sure there are no dry bits of flour left.
2. Cover and rest in a warm place for 30 minutes
3. Add salt and sourdough starter, knead dough for about 5 minutes, until everything is evenly incorporated. Wet hands through the kneading process to keep dough from sticking to them.
4. Cover and return to a warm place for another 20 minutes.
5. Knead the dough three more times, every 20 minutes, each time rotating the bowl until all sides of dough have been folded over.
6. After the third kneading cycle, let the dough rest for 2 – 2 1/2 hours undisturbed. The dough will grow and be 50% bigger in volume when it is ready.
7. Grease a parchment lined 8" round baking pan with 1 Tbsp of olive oil.
8. Gently transfer the focaccia dough from the bowl to the baking pan.
9. Top with 1 more Tbsp of olive oil, cover, and rest somewhere warm for another 1 1/2 -2 hours.
10. Preheat oven to 475°F. When your dough has doubled in size and feels very pillowy to the touch it is ready to bake.
11. Using well-oiled fingers to carefully dimple the top of the dough evenly across the whole surface (be sure to poke any large air bubbles that come up during the dimpling process). Top the dimpled focaccia with the remaining 1 Tbsp of olive oil, flaky salt, and coarsely ground pepper.
12. Bake for 20 minutes, or until a deep golden brown.
13. Remove baked focaccia and rest on a cooling rack, pouring any oil from the bottom of the baking dish over the bread. Allow to fully cool before slicing.
Roasted Eggplant & Peppers
1. Roast/char the whole vegetables completely over an intense flame. Gas burners and barbeques set to high are most effective but a broiler set to high will work.
2. Rotate the vegetables frequently during roasting to ensure an even char.
3. Once the eggplant and peppers are completely blackened and softened throughout (5 mins for peppers and 8 mins for eggplant), place into a heat resistant container, and tightly cover with cellophane wrap so the vegetables can steam themselves. (If using a broiler this process could take up to 20 minutes.)
4. When the vegetables are cool enough to handle, uncover and remove their skins with a paring knife. Coarsely dice the flesh of the vegetables and reserve.
5. Mix with the vinegar, olive oil, minced garlic, Calabrian chili, parsley, lemon zest, salt and pepper. Adjust seasoning to taste. Reserve in the refrigerator for up to 1 week.
Assembly
1. When ready to serve, gently warm up the marinated vegetable mix in a frying pan over low heat, double checking the seasoning one last time. Adjust acidity (red wine vinegar) and salt to taste.
2. Toast the focaccia. Remove the marinated vegetables from the heat and stir in torn fresh mint and dill.
3. Top the toasted focaccia with eggplant mixture.
4. Garnish with grated pecorino and a sprig of fresh dill.
5. Finish with a drizzle of a nice extra virgin olive oil and enjoy!
Yield : approximately 24 servings