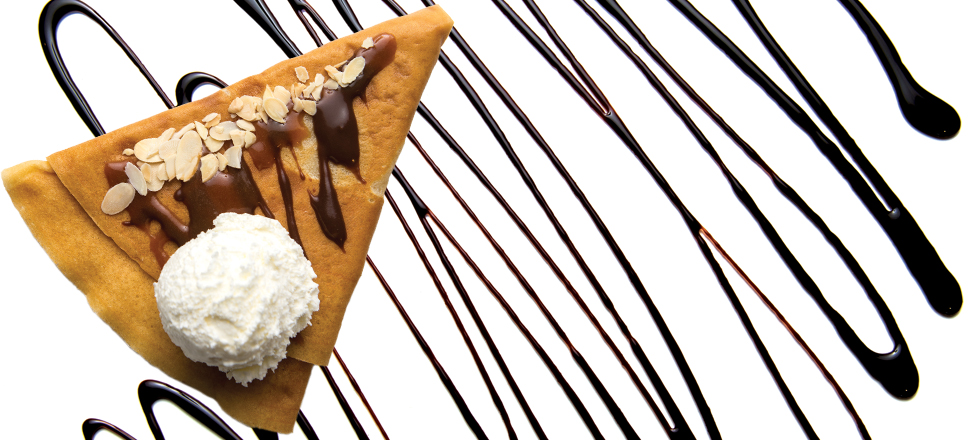 Owners Phil Salazar and Candy Lam
Kawaii Crepe
Snickers Crepe
This candy bar flavoured crepe is filled with caramel and malty fudge sauce.
INGREDIENTS
Crepe
1 cup flour
2/3 cup cold milk
2/3 cup cold water
3 large eggs
1/4 tsp salt
3 Tbsp melted butter
METHOD
Crepe
1. Blend or whisk together all ingredients until smooth.
2. Refrigerate batter for 1 hour.
3. Oil pan and heat over medium heat.
4. Pour about 3 Tbsp batter into the heated pan, then tilt and swirl pan in a circular motion to coat evenly.
5. Cook crepe until browned, about one minute, then flip and cook the other side, about one minute. Repeat with remaining batter.
INGREDIENTS
Malted Fudge Sauce
3/4 cup unsalted butter
9 oz bittersweet chocolate
½ cup chocolate malt Ovaltine
¼ cup cocoa powder
1 ½ cup brown sugar
1 ½ cups light cream
pinch of salt
1 Tbsp vanilla extract
Caramel Sauce
2 cups granulated sugar
1/2 cup light corn syrup
2 cups light cream
1/2 cup unsalted butter
1 tsp vanilla extract
¼ tsp salt
Garnish
Sliced almonds
Vanilla ice cream
METHOD
Malted Fudge Sauce
1. Combine butter, chocolate, Ovaltine, sugar, cream, and salt in a double boiler.
2. Heat to boiling, stirring until smooth.
3. Remove from heat, whisk in vanilla, and cool.
Caramel Sauce
1. Melt sugar and corn syrup in a saucepan over medium heat. Stir until melted and beginning to colour.
2. Reduce heat to low and slowly add cream and butter. The sauce will bubble up.
3. Remove pan from the heat. Add vanilla and salt and mix until smooth.
ASSEMBLY
1. Drizzle crepe with fudge and caramel sauce. Top with ice cream and almonds.
Yield 8 10" crepes