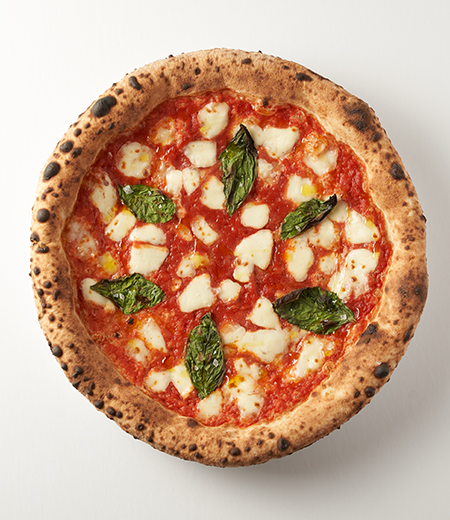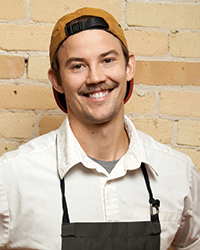 Red Ember Common – Quin Ferguson
Stunning in its simplicity and flavour, a handful of fresh ingredients result in a rich pizza with punches of herbaceous basil. A favourite the world over, this pizza is taken up a notch by chef Quin Ferguson's use of raw honey sourced locally from Phil's Honey, though any honey will do.
Margherita Pizza
INGREDIENTS
Dough
1 cup white organic flour
1 1/2 tsp honey
1 tsp sea salt
1/4 tsp yeast
1/2 Tbsp sunflower oil
2/3 cup water
Toppings
1/3 cup San Marzano tomatoes, puréed
1/3 cup fior di latte or buffalo mozzarella
11 basil leaves
1 tsp sea salt
olive oil
METHOD
Dough
1. Place water in a bowl of a stand mixer with a dough hook.
2. Add flour, salt and yeast and mix for four minutes. Slowly add the oil.
3. Mix until a smooth ball is formed.
4. Remove dough and roll in to two even balls of dough ensuring no air pockets.
5. Place balls in a flat, airtight container with room to expand to let rise in the refrigerator, preferably for 2-3 days.
6. When ready to stretch the dough, gently remove proofed dough ball from your container with a dough scraper or spatula, being careful not to misshape it.
7. Using your hands on a floured surface, gently open up the dough into a dish, making sure not to stretch too much dough from the centre, weakening it.
Pizza
1. Place pizza stone in oven and heat oven to highest temperature. Do this at least one hour before baking.
2. Place dough on lightly floured wooden pizza peel or cutting board.
3. Top pizza with puréed San Marzano tomatoes and five basil leaves. Tear mozzarella into one-inch pieces and spread across pizza.
4. Quickly slide pizza into oven and close the door. Switch oven to broil to provide top heat.
5. Bake pizza for 10-15 minutes. Remove from oven and allow to rest on pizza screen for 30 seconds.
6. Cut pizza and garnish with sea salt, remaining basil and high-quality olive oil.
Yield 1 pizza