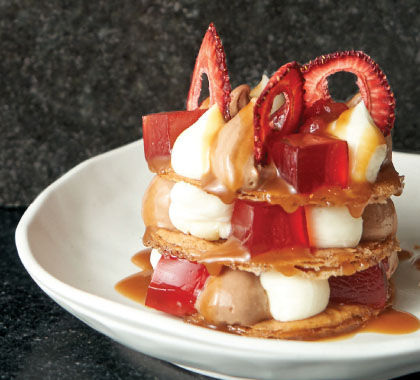 Soy caramel adds an umami-rich edge to this delicate dessert.
INGREDIENTS
Phyllo Crisp
5 phyllo sheets
1/2 cup unsalted butter, melted
4 Tbsp icing sugar
Chocolate Mousse
1 egg yolk
1/4 cup sugar
1/2 cup whipping cream
1/2 cup chocolate, milk or dark
Dark Soy Caramel
1 cup sugar
1/4 cup water
1/2 cup corn syrup
1/4 cup whipping cream
1/4 cup unsalted butter
3 Tbsp soy sauce
Strawberry Gelee
1/2 cup Strawberry Juice (reserved from macerated strawberries)
1 gelatin sheet (gold standard)
Macerated Strawberries
6 strawberries, top removed and quartered
1 tbsp sugar
½ tsp salt
Mille Feuille
12-18 phyllo crisps
4 Tbsp chocolate mousse
2 Tbsp macerated strawberries
strawberry gelee cubes
1 Tbsp dark soy caramel
2 Tbsp whipped cream
METHOD
Phyllo Crisp
1. Layer one sheet of phyllo on a clean counter and gently brush with melted butter.
2. Dust just over 1 Tbsp of icing sugar over the sheet and layer a fresh sheet on top, lightly pressing to adhere to bottom sheet.
3. Repeat process until all sheets are layered.
4. Using a ring cutter, cut phyllo stack into circles.
5. Place pieces on a parchment lined sheet. Cover with another sheet of parchment, then place a heavy sheet pan on top to press while baking.
6. Bake at 340°F for 10-15 minutes until deeply golden.
7. Remove from oven. Cool with sheet pan on top to ensure they don't separate.
Chocolate Mousse
1. Combine egg yolk and sugar, whisking until pale yellow.
2. Heat 1/4 cup cream until warm.
3. Slowly whisk cream into egg mixture to ensure it doesn't curdle.
4. Place back in pot. Whisk over low heat until slightly thickened, making sure not to boil.
5. Once thickened, remove from heat and add chocolate, whisk until smooth and combined, then let cool.
6. Whisk 1/4 cup whipping cream until stiff peaks form.
7. Once chocolate has cooled, gently add it to the whipped cream and combine.
8. Refrigerate for at least 3 hours.
Dark Soy Caramel
1. In a heavy bottom pot, combine sugar, water and corn syrup.
2. Cook over medium heat for 15-20 mins until dark amber in colour.
3. Remove pot from heat and slowly whisk in whipping cream, butter and soy sauce.
4. Whisk until very smooth. If there are undissolved crystals, return to low heat and whisk until smooth.
5. Refrigerate until chilled.
Strawberry Gelee – yield 1/2 cup
EXECUTION
1. Fill bowl with cold water and ice cubes
2. Place gelatin sheet into cold water to soften and hydrate
3. Meanwhile heat strawberry juice to a gentle simmer
4. Remove softened gelatin from ice water and squeeze out excess liquid
5. Add gelatin to strawberry juice and stir to dissolve, do not whisk as it will incorporate air which will effect the final product
6. Allow to chill for minimum of 3 hours to fully set.
7. Cut into desired sized cubes
Macerated Strawberries
1. Combine all ingredients in a bowl and toss to evenly mix
2. Let sit on the counter for 1 hour, mix occasionally
3. The seasoning will pull the moisture out creating a natural sauce
Mille Feuille
1. Lay out 3 phyllo crisps. Using a piping bag, squeeze small dollops of chocolate mousse and whipped cream, placing desired amount of strawberry gelee cubes between.
2. Place macerated strawberries on top of decorated crisps.
3. Once assembled, stack each crisp on top of each other.
4. Lightly drizzle caramel on top.
Yield 1 mille feuille