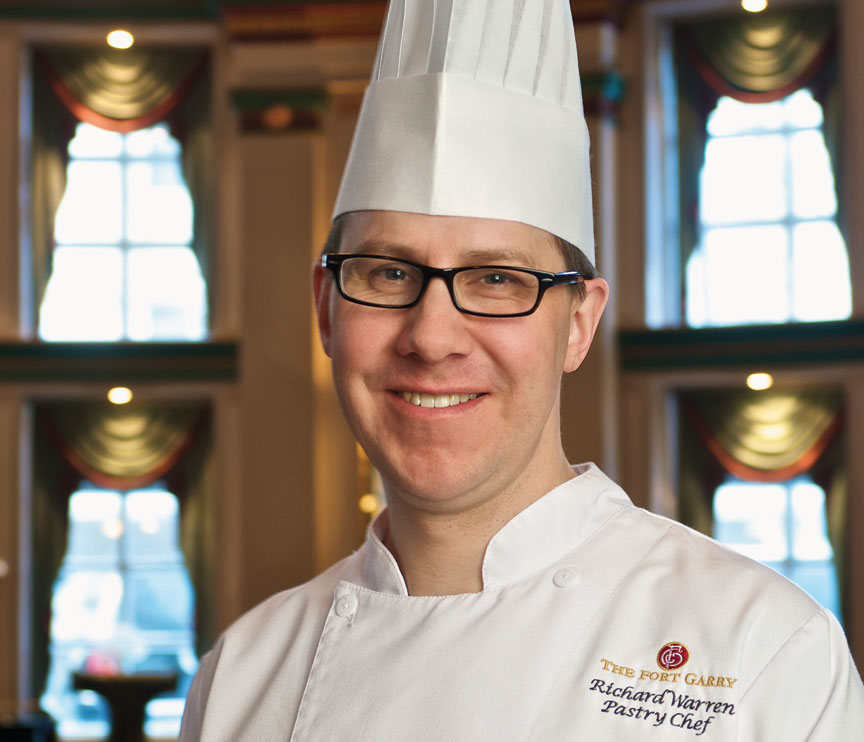 Pastry Chef Richard Warren and his team at The Fort Garry Hotel
deliver divine desserts for scores of guests.
by Robin Summerfield
Nine large clipboards hang in two rows on one kitchen wall.
Orders are hand written on large yellow sheets on each board.
Each loaf of bread, croissant, cake, cheesecake, truffle and chocolate-dipped strawberry for every event from morning to night for the next nine days is listed.
It's up to a team of seven pastry chefs at The Fort Garry Hotel to pull it together.
Located in a corner of the massive basement kitchen, "the bakeshop" produces all the sweets, pastries and breads for the 99-year-old hotel including 25 to 30 desserts each week for the epic Sunday brunch.
On the busiest days of the year, typically Saturdays during summer, up to about 1,300 people, at 12 events, in 15 rooms will eat at the 10-storey luxury hotel.
"You always have to be ahead of the game," says Pastry Chef Richard Warren, who captains the ship. "Here, you can't be last minute. You have to be very organized."
The desserts served at this historic venue are astounding, and even more impressive considering the staggering volumes that are produced.
The magic happens inside a 900-square-foot, L-shaped kitchen on two, side-by-side stainless steel tables. Along one wall, shelves hold a library of cookbooks. Each baker's tool box—filled with recipes and the implements of their trade—sits at the ready.
The space isn't fancy and won't win any kitchen design awards but its simplicity works. The vibe is relaxed, professional and efficient.
The team works from a set of master recipes, trusted and tweaked by successive pastry chefs, explains Warren.
His talent for sweets is in focus on these pages.
"I've always loved chocolate," he says. "I have a pretty insatiable sweet tooth."
From his subtle, basil and white-chocolate ice cream atop tart rhubarb crumble to a dark chocolate soufflé cake served with a smooth caramel and tangy orange sauce, Warren exhibits undeniable sugar prowess.
"I feel very lucky to have a job where I get to be creative and it pays my bills," he says with a smile.
That creativity is clear from the first nibble of Warren's handmade truffles, a delightfully decadent bite of milk chocolate with a hint of luscious caramel.
As Warren says: "When you've got only one or two bites you really want to make an impression."
This 38-year-old got his start in typical food industry fashion. He got a job washing dishes while in high school.
He quickly moved to prep work, then began baking bread and soon after, desserts.
"It felt good. (Desserts) came naturally to me," he says.
Warren wanted to learn more so he enrolled in Red River's commercial cooking program. He graduated in 1994 and started at The Fort Garry Hotel that year. Since then, he has done stints at the Carleton Club, Prairie Oyster and, most recently, five years at The Current at the Inn at the Forks.
A year ago, Warren returned to The Fort Garry Hotel.
Warren has added a few of his own recipes to the master list, including Saskatoon clafloutis tarts, and grape and almond cream tarts.
"Some desserts like cashew caramel cheesecake and chocolate raspberry cheesecake and even warm chocolate cake are tried and true Fort Garry classics," he says. "But we also have more modern desserts like a pineapple tarte tatin with banana caramel ice cream and a raspberry meringue with honey vanilla ice cream."
He has also overhauled the bread recipes. They now use an organic flour from Eli for breads served in the Palm Room and have started to grind their own whole wheat flour in the bakeshop.
The bakeshop schedule is rigorous and demanding. It doesn't show.
One cook counts out 120 chocolate dipped strawberries while another makes a batch of rosemary nuts to be served in the lounge. Nearby, another scoops cookie dough onto a sheet.
As one task is completed, staff scratch it off that day's clipboard.
Warren takes extreme satisfaction in ripping up the completed task lists at days end.
That satisfaction is fleeting.
It's already time for the bakeshop team to move on to the next task.
And on they go to the next loaf of marble rye bread, pan of honey baklava or batch of basil and white chocolate ice cream that awaits for Ciao!'s photo shoot upstairs.
Below are three recipes, included with this article, from Pastry Chef Richard Warren of The Fort Garry Hotel and can be found in the latest issue of ciao! magazine.
Warm Rhubarb Crisp with Basil
and White Chocolate Ice Cream
Instead of vanilla, serve this tart and tangy rhubarb crisp with
basil-infused white-chocolate ice cream.
Chocolate Soufflé Cakes with Dark Chocolate Sorbet and Orange Caramel Sauce


Serve these single serving soufflés warm from the oven on a bed of fresh orange segments drizzled with orange caramel sauce. Top dessert with a dollop of silky, dark chocolate sorbet.

Poached Pear with Gianduja Sabayon, Hazelnut Praline and Langues de Chat


With fruit, nuts, chocolate and vanilla, this multi-dimensional dessert delivers multi-layered flavours and textures on one plate. Milk chocolate can be substituted for hard-to-find gianduja chocolate.