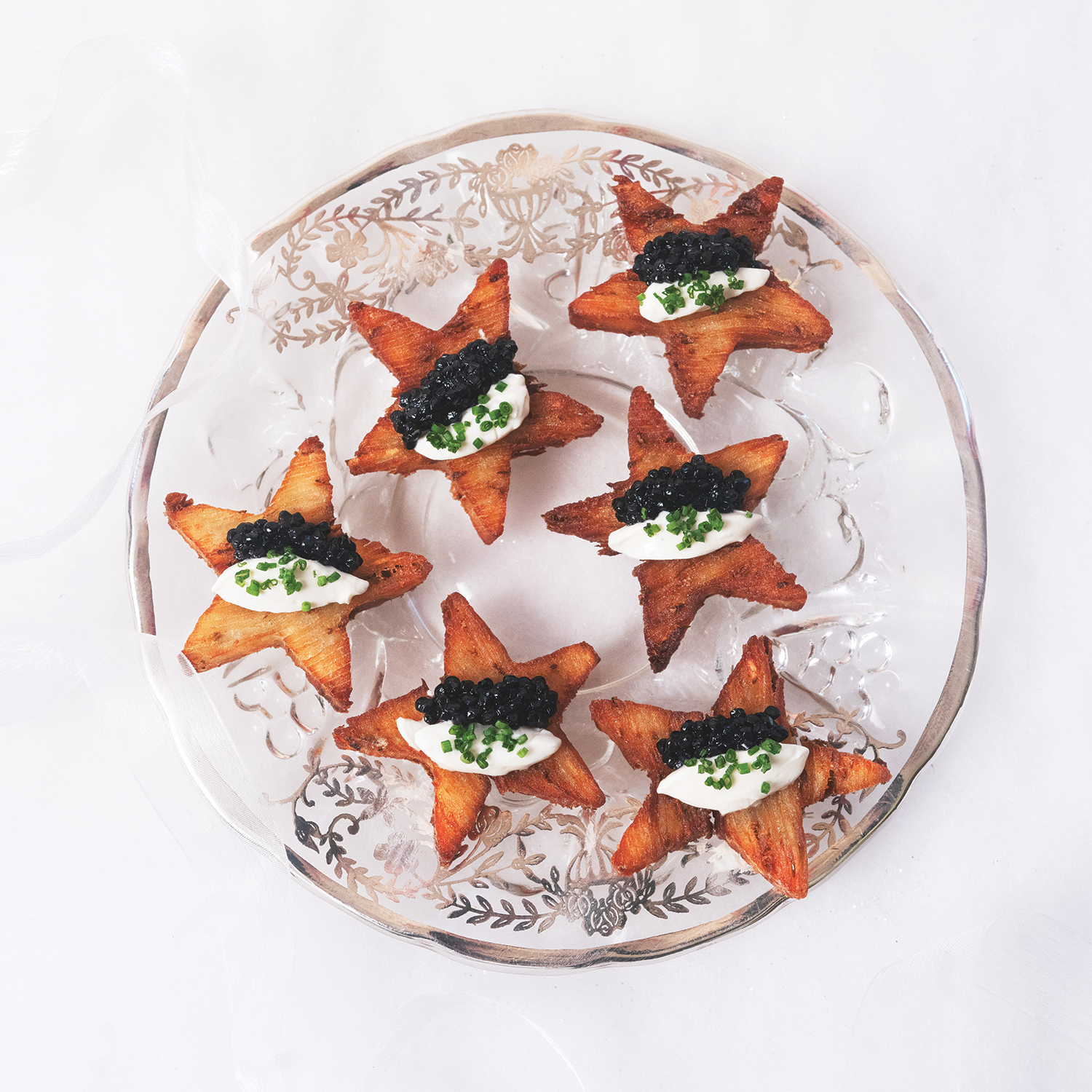 Potato Pavé
Courtesy of Cole Mospanchuk – Nonsuch Brewing Co.
INGREDIENTS
Potatoes
1 head garlic, roasted
1/2 tsp olive oil
1/4 tsp salt
cracked black pepper
2 cups duck fat
1 Tbsp Maldon salt
black pepper
5 large Yukon Gold potatoes, peeled
6 cups vegetable oil
Smoked Crème Fraîche
1 cup sour cream
fresh chives
preferred caviar (salmon, herring or trout)
METHOD
Roasted Garlic
1. Preheat oven to 350°F.
2. Cut off the top of the bulb of garlic and season with 1/2 tsp of olive oil, a 1/4 teaspoon of salt and cracked black pepper.
3. Wrap tightly in aluminum foil and roast for one hour.
4. Cool, then remove garlic from foil and squeeze out garlic cloves
5. Mash into a paste with a fork.
Smoked Crème Fraîche
1. Empty sour cream into a stainless-steel bowl.
2. Gently smoke using a smoker or with a smoking gun. If using a smoker keep sour cream cool by nesting the bowl in a heat proof container full of ice.
3. Smoke over Apple wood chips
for 1 – 1 1/2 hours.
Potato Pavé
1. Preheat oven to 300°F.
2. Gently melt duck fat in a frying pan.
3. Wash potatoes, and thinly slice
on a mandolin.
4. Mix all the ingredients, except vegetable oil, thoroughly in a bowl.
5. Working quickly, layer all the potatoes into a parchment lined and greased loaf pan. Press down gently on the potatoes to create tight compact layers.
6. Place a piece of greased parchment paper on the top, and set another loaf pan on top.
7. Bake for 2 1/2 – 3 hours, or until tender (easily pierced with a knife).
8. While hot, weigh down the top loaf pan. Canned food works well. Place the weighted pavé in the
fridge to set overnight.
9. The next day, remove the weights and invert the loaf pan to remove the pavé. Use a butter knife around the edges of the pan to assist easy removal.
10. Cut the pavé into 3/4" thick slices.
11. Cut each slice in quarters or desired shape with a cookie cutter
12. Preheat the vegetable oil to 350°F in a heavy bottomed pot when ready to fry.
13. Carefully lower pieces of pavé into the oil one at a time, being sure not to overcrowd the pan.
14. Fry for 5-7 minutes, or until golden brown.
15. Transfer to a paper towel lined sheet tray and season with salt.
16. Top with a teaspoon of the smoked crème fraîche, a teaspoon
of your caviar, and a sprinkle of
finely chopped chives and enjoy!
Yield approximately 24 servings