Table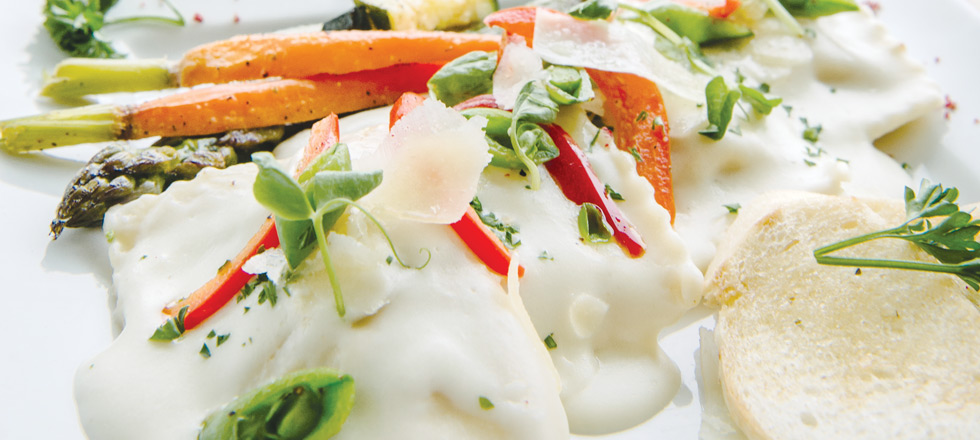 Sweet Potatoe Ravioli
Neighbourhood: Downtown
Address: 300 Memorial Blvd
Phone: 204-948-0085
Entrees: $12-$16
Floor-to-ceiling windows look out to the Modernist design of the rooftop sculpture garden, creating one of the city's most picture-perfect views, an idyllic backdrop for a Mediterranean meal. The minimal interior, set with black tables and chairs, lets the food do the talking.
Natural light illuminates this artsy eatery housed on the penthouse level of the Winnipeg Art Gallery (sunny days may call for a pair of chic specs). The ace seats are beside the wall of windows, which provide views of a unique northern vantage point on the city skyline. No need for fancy table settings here, feed your eyes with an impressive view of the reflecting pool and the Winnipeg Art Gallery's collection of sculptures.
Art lovers and business casual diners alike head to this urban retreat amidst downtown hustle, where hushed chatter echoes in an open space.
The buzz on the current exhibit is just as important as the food. Inspired by Olympus: The Greco-Roman Collections of Berlin, the  menu boasts Mediterranean flavours and ingredients. For starters, two crepes served over a heaping mountain of arugula offer a candied kick. Spicy chorizo and thinly sliced, tender and juicy duck breast offset crispy green apples smothered with sun dried cherry cream cheese. The cool, summer flavour of apple balances a fiery bite of chorizo.
Amid the options on the two-page menu are twists on flatbread and pasta. Flatbread sprinkled with chopped pieces of spinach, fig and bacon hides underneath a gooey and bountiful goat cheese and mozza topping. Smokey, crisp edges balance a playful drizzle of balsamic vinegar, which adds a sweet-tart flavour punch to cheesy goodness. Sandwich connoisseurs can chow down on hearty pot roast with green pepper relish, arugula and Havarti cheese melting it all together. Keep napkins nearby, as beef escapes the overflowing panini roll with every bite. The Cuban, juicy slices of smoked pork loin smothered with honey tarragon mustard on a warm pita, imparts exotic, bittersweet flavour.
Pasta options satisfy grumbling stomachs with abundant portions. Surpassingly soft ravioli swim in a smoked cheddar cream sauce.  Garden fresh carrots, asparagus and red pepper top smooth sweet potato filled bites so good you'd offer them to the gods. Rustic whole carrots maintain crunch while delivering nature's sweetness to sharp and peppery cheddar.
Much like the gallery, the food is thoughtfully crafted and worthy of snapping a few shots before digging in. To make a noon hour getaway even more indulgent, sip on one of the suggested wine pairings listed beside entrees.
No gallery admission required. TABLE is open Tues to Fri 11 am-3 pm, Sat & Sun 11 am-2 pm, closed Mon.
© 2015 All rights reserved. Reproduction in whole or in part is strictly prohibited.