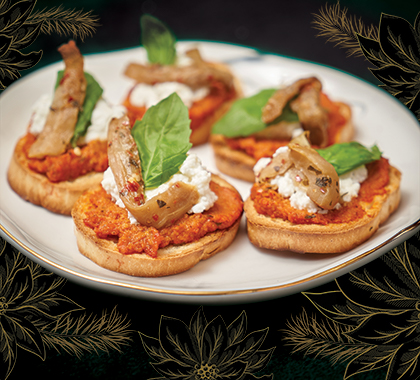 Cibo Waterfront Café – Sean Smith
Romesco Eggplant Bruschetta
Chef Smith suggests using bought marinara to keep things simple.
INGREDIENTS
3/4 cup bread crumbs
1/2 cup sliced almonds
3 red bell peppers
3/4 cup marinara sauce
2 cloves of garlic, minced
2 Tbsp red wine vinegar
1 Tbsp smoked paprika
1 tsp kosher salt
1/2 cup olive pomace oil
1 French baguette
spicy pickled eggplant
2 cups ricotta cheese
1 cup basil, chiffonade
METHOD
1. Add almonds and bread crumbs to dry sauté pan, toast on medium heat until slightly browned.
2. Add almonds and crumbs to food processor, pulse until fine.
3. Remove stems and cores from peppers, roast at 400°F for 25 minutes, until soft.
4. Put peppers in mixing bowl and wrap tightly with plastic wrap. Let cool for 15 minutes.
5. Once cooled, remove skins.
6. Add peppers to food processor, as well as marinara, garlic, paprika, vinegar, salt. Blend until smooth.
7. Once smooth, slowly begin to add oil, while blending to emulsify.
8. Cut baguette into 1/2 inch thick coins, then toast.
9. Smear crostini with romesco, add dollop of ricotta cheese.
10. Remove eggplant from oil, let any excess drip off, add to crostini.  Garnish with chiffonade basil.
Yield 4 servings