Pig Belly with Figs and Port
by Chef Alexander Svenne of Bistro 7 1/4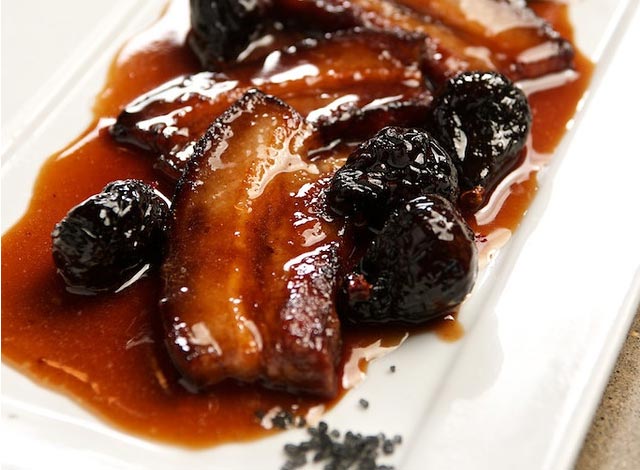 Ingredients
Dry Brine
1 pork belly
1 cup brown sugar
½ cup salt
1 tsp black pepper
1 tsp dried chiles
Prepare Pork Belly
1 orange, sliced
4 bay leaves
2 cups ginger ale
Port Reduction
1 cup black mission figs
1 cup chicken stock
pinch of chiles
salt and pepper to taste
1 Tbsp cold butter
1. Score pork belly.

2. Rub pork belly with dry brine on both sides. Rest overnight.

Prepare Pork Belly
1. Rinse brine off pork belly.
2. Arrange orange slices and bay leaves in pan. Place belly on top, skin side up. Pour ginger ale into pan. Cover pan with tin foil.

3. Bake belly at 300°F for two hours, or until very tender.
4. Leave belly in pan with liquid. Place a second pan on top of belly, place a couple of tin cans on top of the second pan to weigh it down. Cool completely.
1. Slice pork belly into 1/2" thick pieces.

2. Sear belly in a hot pan, or grill on the barbeque until crisp. Watch out for flare ups, the belly has a lot of fat.

Port Reduction
3. In a small saucepan boil the figs, port and chiles until the port is almost completely reduced.
4. Add the chicken stock and boil until it is reduced to a nice, glassy sauce.
5. Remove from heat and whisk in cold butter. Toss pork belly in port sauce to glaze.

6. Arrange pork belly and figs on plate. Pour sauce over.
Yields 4 servings
---