---
By satisfying peoples' sweet tooth, Fred Morden and his family put smiles on the faces of young and old throughout the entire year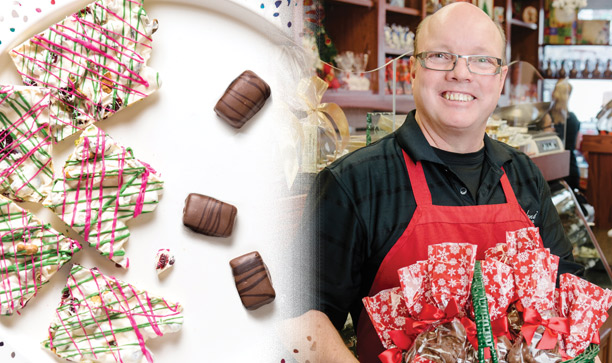 By Arvel Gray

When Fred Morden started working in his family's candy store in 1978, his job at Christmastime was to twist the soft ribbon candy into a diagonal stripe and form the hook on the candy canes. Twenty-eight years later, as master chocolatier and owner of Mordens' of Winnipeg, he is busier than Santa, gearing up for the holiday crush of customers who will snap up some of the more than 70 varieties of chocolates, caramels, brittles, barks and roasted nuts.
Many large companies make candies more than a year in advance to meet holiday demands. Mordens' only makes and sells fresh stock. "We can produce 9,000 pounds of candy and nuts a day during the holidays," says Fred, adding that the staff of 15 might pump out 5,000 pounds of cashews a day, 900 pounds of chocolate covered almonds and 800 pounds of Mordens' signature Russian Mints. This family recipe–a heady combination of rich milk chocolate infused with cooling peppermint oil–has been sampled by Queen Elizabeth II, and won first prize over 300 other entrants at the 1984 Louisiana World Expo.
In the competitive landscape of confections, Mordens' has flourished by maintaining its reputation for superior, delicious, beautifully presented products loved by locals, coveted by expats and savoured by an international fan base. "Each of our chocolates provides unique, intense flavour," says Fred. "That's the difference."
In its infancy, the tiny kitchen was capable of making eight batches of chocolates and eight batches of peanut brittle daily. In 1982 when Fred purchased the company, he expanded into the building next door, where a new, 850 square foot kitchen was added and filled with state-of-the-art industrial equipment from Europe.
Still, much of the work is done by hand, he says, and everything is made from scratch, including marshmallows and fondant centres.
At the back of the kitchen, a buttery, nutty cloud hovers over the nut roaster as Fred stirs a load of almonds needed for a batch of chocolate covered nuts. Tomorrow, the nuts will be drizzled with liquid chocolate and finished in a cone-shaped panner that adds shine with starch and a confectioner's glaze. Meanwhile, a 1,000 pound stainless steel melting vat conditions the centres of the Russian Mints, tempering the chocolate to approximately 90 degrees F before the silky concoction is poured onto a water-cooled table lined with paper. When the batch sets up, Fred will hand cut 3,400 pieces.
____________________________________________

"I get to put smiles on people's faces for a living. It's a lot of hard work but I love it."
– Fred Morden
____________________________________________
Upstairs, two enrobing machines cloak mints with a jacket of milk chocolate and whisk them through a cooling tunnel before they are snapped off the belt by packers and set onto holding trays. Rows of elegant foil boxes manufactured by Friesens in Altona sit waiting for shipment to stores across Canada. Some of the mints will find their way onto pillows at high end local hotels.
A strong entrepreneurial spirit has kept the company vibrant since its inception in 1959, when Mordens' was one of seven confectioners on Sargent Avenue. The shop eventually became a competitor for institutions Grammas' & The Original Chocolate Shop Restaurant.
"My dad started working with Park Candy Kitchen on Portage Avenue," says Fred. "Right in the middle of a batch of peanut brittle the owner said, 'I'm done. Would you like to buy the store?'"
He did, and moved the business to its current home. With the help of Fred's grandfather, the Morden family began selling peanut brittle and Russian Mints to community clubs for fundraisers. Both products were an instant hit, building the company's reputation for consistent quality and service.
"This is still very much a family business," says Fred, who emphasizes that many relatives play important roles in the company and his parents still come in to help when they can. "We have staff who have been here for 38 years," he says.
Now, the family connection extends beyond his own. On Saturdays, Mordens' hosts as many as three children's parties where budding chocolatiers hand dip marshmallows, ju jubes and pretzels into tubs of white and milk chocolate.
As he ponders the pleasures that Mordens' has brought to its customers over its 55-year history, the bell over the front door announces a steady stream of patrons piling into the cozy retail shop, fragrant with all creams and bridge mix, stuffed with milk chocolate Santas and polar bears. The shop's glass display cases are filled with a dizzying array of artisan offerings like chocolate covered coconut bars and caramel nut clusters. Fred is constantly experimenting with new flavour combinations to stay ahead of the pack, adding that they were one of the first in North America to pann chocolate covered ju jubes and coffee beans.
"I get to put smiles on people's faces for a living," Fred says. "It's a lot of hard work but I love it." Considering the sheer number of Winnipeg homes that will slip a familiar gold box under their tree or onto their table this Christmas, we'd say his customers are sweet on him, too.
Click below to view recipes from Fred Morden of Mordens' Chocolate