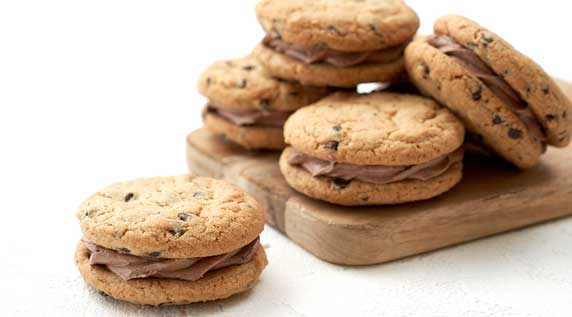 Owner/Baker Phingky Fuentes
Pinky's Bakeshop

Nutty tahini blends with rich chocolate for a delightful peanut-free treat.
INGREDIENTS
Chocolate Chip Cookies
1 1/4 cups unsalted butter, room temperature
3/4 cup white sugar
1 cup brown sugar
2 eggs
2 tsp vanilla extract
3 3/4 cups flour
1 1/2 tsp baking soda
1 1/2 tsp salt
1 1/2 tsp baking powder
1 cup semi-sweet chocolate chips
Chocolate Tahini Buttercream
1 cup egg whites
1 1/2 cups sugar
2 cups butter, room temperature
pinch of salt
1/2 cup cocoa powder
1/4 cup tahini paste
METHOD
Chocolate Chip Cookies
1. Combine sugar and butter. Add egg and mix until light and fluffy. Mix in vanilla.
2. In a separate bowl, mix together flour, baking soda, baking powder and salt, then add to butter mixture. Add chocolate chips last.
3. Using an ice cream scoop, place cookie dough on a parchment sheet pan 1/2" apart. Bake at 350°F for 12-15 minutes.
Chocolate Tahini Buttercream
1. Place a heat-proof bowl over a double boiler and whisk together egg white, sugar and salt until the sugar dissolves.
2. Place in a mixing bowl with a whisk attachment and mix until cool and fluffy.
3. Slowly add half  the butter. Add remaining butter and mix for 5–10 minutes.
4. Mix in cocoa powder and tahini paste.
Assembly
1. Using a star or round tip, pipe buttercream in between two cookies.
Yield 12 sandwiches