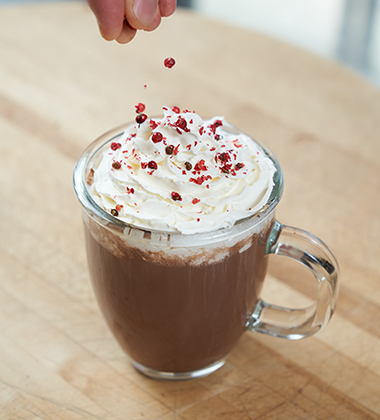 Park Café – Kami Goertz
Triple Pepper Hot Chocolate
Pink peppercorns add floral crunch to this peppery hot chocolate's sweet heat. 
INGREDIENTS
1 tsp black peppercorns
1 cup white sugar
1 cup water
1/2 tsp cayenne pepper
Godiva hot chocolate mix
whip cream to garnish
pinch of pink peppercorns
METHOD
1. Infuse black peppercorns in boiling water for 5 minutes. Strain.
2. Add sugar, dissolving to make a simple syrup. Add cayenne pepper.
3. Use this syrup to flavour hot chocolate mix to desired strength.
4. Garnish with whipped cream and sprinkle with crushed pink peppercorns. 
Yield 1 cup hot chocolate