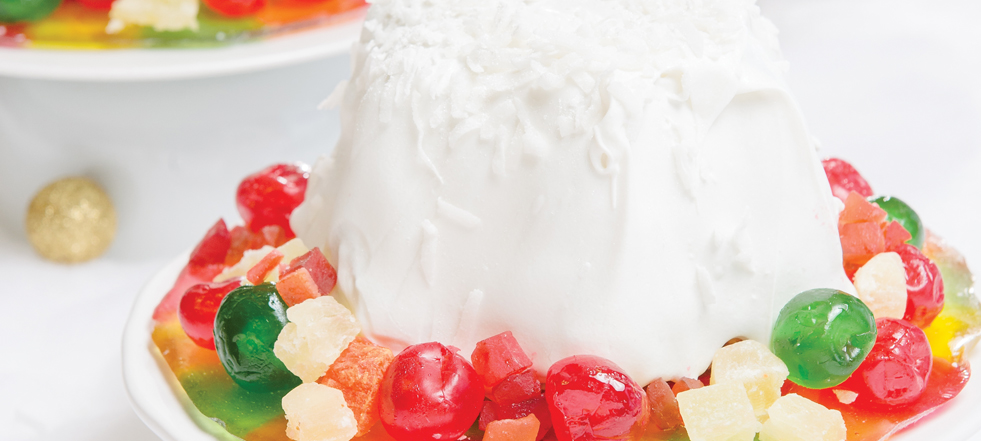 White Christmas Cake
Ingredients
1 cup butter
2 cups white sugar
6 eggs
1/2 lb citron peel
1/4 c fruit juice (drained pineapple juice may be used)
1 tsp vanilla
1/2 tsp almond extract
4 tsp baking powder
2 3/4 cups flour
1 1/2 lb almonds
1 lb bleached raisins
1/2 lb red glazed cherries
1/2 lb green glazed cherries
1 tin crushed pineapple, drained
1 lb shredded coconut
Method
1. Preheat oven to 250˚F. Line cake pans with parchment paper. Place a pan of water in oven, beneath where the cake pan will sit.
2. Cream butter and sugar very well, until mixture is light and fluffy. Beat in eggs. Add citron peel, fruit juice, vanilla, and almond extract.
3. Sift together flour and baking powder. Slowly add to wet ingredients, mixing well to combine.
4. Fold almonds, fruit, and coconut into the batter until well combined.
5. Bake until cakes are golden and a cake tester inserted into the centre of the cake comes out clean, about 2 hours.
6. Optional: Coat cakes in melted white chocolate and top with coconut.
Yield 3 loaves
Candy Plate
Ingredients
Apprx. 40 hard sugar candies in various colours
Method
1. Preheat oven to 350˚F. Line springform pan with wax paper.
2. Unwrap candies and place them on wax paper, in desired colour design. Leave apprx. 1/4" between candies.
3. Bake for 8 min., watch closely.
5. Remove from oven and cool on cooling rack.
Yield 1 candy plate