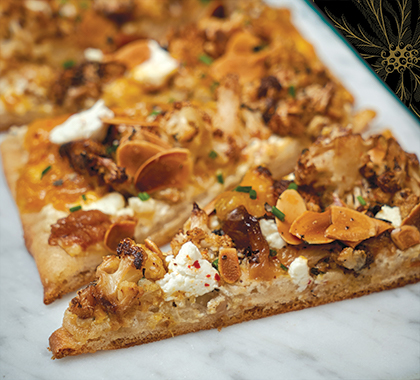 Cordova Tapas & Wine – Karli Smith
Cauliflower Flatbread

Sweet apricot jam balances the sour and sharp of the cheeses.
INGREDIENTS
Roasted Cauliflower
1 Tbsp Smak Dab white wine
herb dijon
1/3 cup olive oil
1/4 tsp paprika
1 Tbsp fresh thyme
2 tsp balsamic vinegar
salt & pepper to taste
6 bay leaves
Apricot Jam
3 cups water
1 cup fresh orange juice
2 Tbsp spiced rum
2 cups dried apricot, cut in half
1 cinnamon stick
zest of 1 lemon
Blue Cheese Sauce
4 shallots, halved and finely sliced
olive oil
2 Tbsp Langres blue cheese
1/2 cup goat's cheese
1/2 cup heavy whipping cream
salt and pepper to taste
Assembly
flatbread
apricot jam
blue cheese sauce
roasted cauliflower
goat's cheese crumbles
1/4 cup sliced almonds
salt and cracked pepper 
METHOD
Roasted Cauliflower
1. Cut cauliflower in flowerettes and save stalks for roasting.
2. In a small bowl, whisk dijon, olive oil, paprika, thyme, vinegar, salt and pepper. Pour over flowerettes and place in roasting pan with bay leaves.
3. Toss cauliflower stalks with a drizzle of olive oil, bay leaves, salt and pepper. Add to pan.
4. Roast until soft and golden brown for 35-45 mins checking regularly. Stalks should be soft.
5. Transfer cooked flowerettes to a colander. 
Apricot Jam
1. In a pot, boil all ingredients and reduce liquid to jammy texture. Purée to desired consistency.
Blue Cheese Sauce
1. In a pan, brown shallots with olive oil.
2. In a separate pot, melt blue cheese, goat's cheese, whipping cream and salt and pepper to taste.
3. Add browned shallots and roasted cauliflower stalks to the pot. Mix and chill.
Assembly
1. Toss almonds with a dash of olive oil, salt and pepper.
2. Spread blue cheese sauce and apricot jam on flatbread, then top with roasted cauliflower and desired amount of goat's cheese crumbles.
3. Bake at 375°F for 15 minutes until base is golden brown.
4. Top with almonds and cut flatbread into triangle slices.
Yield 1 flatbread