in praise of pork –
The Cavers' successful, holistic approach to sustainable agriculture yields exceptional pork and industry inspiration
by Erin Bend
It was decadently marbled, crackling Berkshire pork belly that drew us to explore Harborside Farms. We encountered this standout taste in Chef Alexander Svenne's kitchen along with his emphatic raves of the protein and the paragon farm of its origin.
Hoof stomps and nostril snorts, chattering hens and the rumbling low of a dairy cow greet us as dusk drapes the farmyard nestled in the Arrow Hills, just east of Pilot Mound. A friendly pup inspects visitors with tail wagging; an uncountable clowder of plump cats dash between a clustered handful of buildings. Apart from the activity evident inside the modern meat shop and grinning farmer pulling into the yard on a tractor, one may think they'd stepped through a portal to an idyllic family farm untarnished by time.
In an increasingly heated food-safety climate with frequent news reports illuminating the negative health, animal welfare and environmental impact of modern large-scale farming practices, a trip to Harborside Farms quenches factory farm anxieties like a tall glass of lemonade. For the past 20 years Pamela and Clinton Cavers, both just pushing 40, have been farming a 640 acre parcel of land with evolving consciousness.
The vigorous fair-haired pair fell in love with a farm a stone's throw from Clinton's great-grandparents' homestead and built a home. Initially they adhered to commercial agriculture practices, but when starting their own brood, they began questioning the wisdom of grain-fed, hormone-induced, antibiotic-injected livestock.
Their journey began by raising a small, group of grass-fed livestock naturally for their own consumption. As enthusiastic cooks, the Cavers were thrilled with the meat's improved taste. As the family enjoyed the meat of their labour, they began to wonder about people who only had access to mass-produced proteins. The capable Cavers decided to take the financial gamble and transition their farm to a natural and sustainable one.
One of the first steps toward sustainability was the decision to raise heritage breeds. Those refer to livestock with unique genetic traits that make them well-suited to their environment, disease resistant and birth easily, and therefore sustainable to farm. Today's commercial industry reliance on quick-growing breeds with lean meat and regular practice of cross-breeding to capitalize on heterosis and optimize feed-to-weight conversion, leaves all of us dangerously dependent on a narrow genetic base. Sustainable farmers increase food security by raising heritage breeds.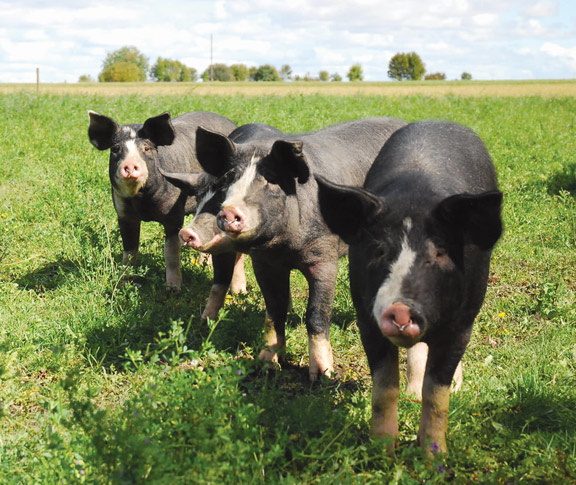 The Cavers raise pork breeds Berkshire, a heritage breed developed in Berkshire, England in the 17th century, and American Mulefoot, a critically rare heritage breed threatened with extinction. In fact, the Cavers were the first Canadian farmers to boast registered stock of the latter. These hearty animals are well-suited to a harsh Prairie climate with thick coats and sturdy, cloven hooves. During cold months, they simply burrow into a massive mound of hay to take shelter from the elements.
Unlike commercial hogs, which tend to yield lighter, leaner meat, heritage breeds boast meat that is darker, fattier and juicer with sumptuous marbling throughout. This distinction sets Harborside's pork apart from conventional pork, creating a unique market for the meat. Today, Winnipeg diners can tuck into Harborside Farm's naturally raised meat at a handful of restaurants ranging from corporate dining rooms such as The Fairmont Hotel to smaller eateries such as Bistro 7 ¼. Wolseley's Organic Planet Worker Co-op retails the pasture-raised meats.
Consumer advantages of heritage breeds surpass taste. While they are more expensive to produce, their environmental footprint is reduced. Large commercial farms produce tremendous amounts of hog excrement, which can pollute nearby rivers and groundwater and contaminate drinking water with diseases, hormones and antibiotics.
Indeed, the number of pigs produced at commerical farms can be staggering. Virginia's Smithfield Foods, Inc., the largest pork outfit in the world, produces a reported 15 million pigs a year. Harborside, by contrast, puts their current drove  at close to 200 with a population peak in spring at 400 when sows farrow.
The Cavers believe the power to remedy our food system lies, in large part, with the consumer. "Start putting your money where your pork is," Pam suggests. "Start making changes so other farmers, including the ones who are having problems with their farms, can see, they would change if they could see the support was there." It seems the larger industry is starting to make positive changes. In 2011, the Manitoba Pork Council released a sustainable development plan which, among other objectives, commits to encouraging producers to phase out gestation stalls by 2025.
In contrast to the Cavers' seemingly limitless skill set we're acutely self-conscious of our own city-slickerness. These folks not only raise and process pigs, cows, turkeys, chickens, goats, sheep, geese, and ducks naturally, they possess the skills to process their farm's bounty into delicious and sellable products. Each season brings new activities to make the most of all that their land has to offer. Tapping maple trees when the sugar is running; planting, harvesting and preserving a large garden; tending bee colonies, harvesting honey and fermenting mead wine.
The old adage, 'waste not, want not' echoes as Pam slices into deep red goose prosciutto joyfully exclaiming, "I love my geese, I saved the down to stuff feather pillows. It's so soft, I can't wait."
Harborside's commitment to sustainability is reflected throughout farm operations. Grey water is used to irrigate summer's garden. Meat is sold in parcels to subscribers, creating consistent demand and eliminating wasted portions of animals.
These hardworking, hard-playing food heroes aren't striving for riches; in fact they have an end game, estimating 100 subscribers to be a manageable and comfortable existence. Their larger goal is to affect change through education, share the value of food that is better rather than cheaper and lead by example.
"I think it's good for institutions and restaurateurs to see that there are good things happening," Clinton says. "And good for farmers to see it as well."
To learn more about Harborside Farms visit harborsidefarms.com.

Click the link below for this recipe from Chef Tim Palmer of The Fairmont Winnipeg. It can also be found in the latest issue of ciao! magazine at local Winnipeg specialty food and wine stores.
Mulefoot Rack of Pork


"The Mulefoot offers a darker meat than your regular commodity pork and is much richer and flavourful meat," says Chef Tim Palmer.