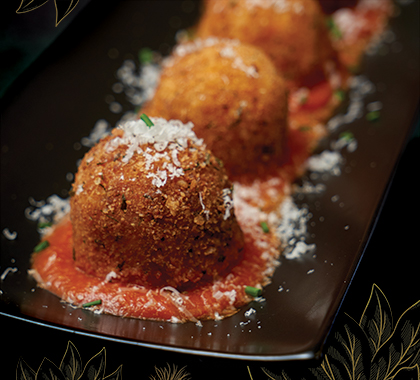 Cibo Waterfront Café – Sean Smith
Stuffed Arancini

Tangy Genovese centers take this classic to new heights.
INGREDIENTS
Genovese sauce (stuffing)
2 lbs beef chuck
3 large yellow onions diced
1 cup red wine
2 Tbsp tomato paste
2 oz pancetta
2 Tbsp kosher salt
2 cups beef stock
Parmesan to finish
Arancini Balls
8 1/2 cups risotto, cooled
2 Tbsp chiffonade basil
2 Tbsp chiffonade parsley
4 eggs
4 cups bread crumbs
METHOD
Genovese sauce (stuffing)
1. Using a large pot, (Dutch oven works best) crisp pancetta.
2. Remove pancetta and add chuck roast, sear on all sides until dark brown, then remove.
3. Add onions and sweat gently. Once translucent, add tomato paste and stir. Cook 1-2 minutes.
4. Add pancetta, chuck, wine and stock to pot and bring to a simmer.
5. Preheat oven to 325°F, cook covered for 8 hours. Meat should be fork tender and easily shredded, and onions completely broken down. Shred meat and stir completely.
6. Add kosher salt and mix, making sure to season to taste.
7. Put in fridge and let cool completely.
Arancini Balls
1. Using large ice cream scoop, scoop large balls of risotto.
2. Using the back of a spoon, press a space into the middle of each ball.
3. Fill with Genovese.
4. Use your hands to seal each arancini ball.
5. Beat eggs with 1/2 cup of water and add arancini balls to egg wash.
6. Coat arancini in bread crumbs.
7. Fill heavy bottomed pot half way with canola oil (must be neutral oil, do not sub olive oil) and heat to 350 degrees.
8. Fry arancini for 6-7 minutes, until golden brown.
9. Serve with heated marinara and shaved Parmesan.
Yield 4 servings