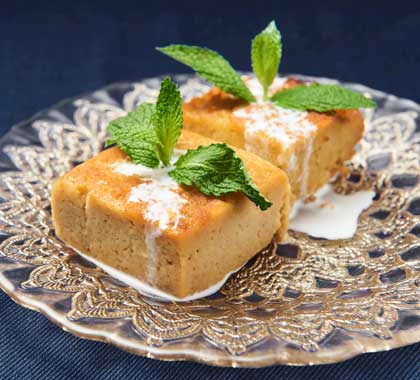 Yellow Bean Pie
This easy-to-make cake is the epitome of Thai cuisine, blending savoury with sweet.
INGREDIENTS
5 extra large eggs
1 1/2 cups coconut milk
3/4 cup dry yellow bean (mung)
3/4 cup palm sugar
4 pandan leaves
2 Tbsp vegetable oil
METHOD
1. Soak yellow beans for 30 minutes in warm water.
2. In a steamer, steam yellow beans for 25 minutes.
3. Blend the yellow bean and 1/2 cup of coconut milk in a blender. Put aside.
4. In a pot, mix and dissolve palm sugar with 1/2 cup of coconut milk over low heat.
5. Combine eggs and pandan leaves by hand in a bowl until smooth, then strain out leaves.
6. Mix yellow bean, remaining 1/2 cup of coconut milk and eggs, then put it on stove over low heat. Simmer until it thickens, being careful not to let it boil and stirring often.
7. Pour into an 8 x 8 baking tray and bake in at 350°F for 45 minutes.
8. Remove from oven and brush with coconut oil, then bake for 5 more minutes.
Yield 1 baking tray