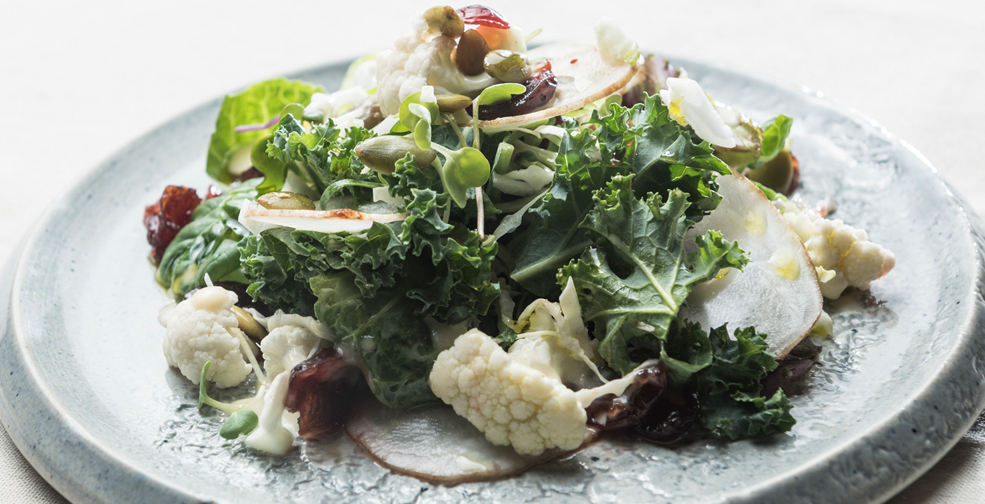 Market Salad
Chef Sean McKay of Mitchell Block
Sunchokes are available at local markets in the summer.
INGREDIENTS
Dijon Apple Cider Vinaigrette
1/3 cup Dijon mustard
4 Tbsp local honey
1 ¼ cups canola oil
1 cup apple cider vinegar
Salad
1 cup bite sized cauliflower florets
1 cup finely sliced Brussels sprouts
1 cup finely sliced white cabbage
1 cup finely sliced sunchokes (Jerusalem artichokes)
4 cups kale, stem removed and torn into bite sized pieces
½ cup medium diced apple
¼ cup dried cranberries
¼ cup toasted pumpkin seeds
METHOD
Dijon Apple Cider Vinaigrette
1. In a food processor, mix the Dijon and honey. While processor is running, very slowly add in the canola oil, then very slowly pour in the apple cider vinegar.
Salad
1. Simply toss all ingredients in a mixing bowl, adding vinaigrette to taste.
Yield 4 servings