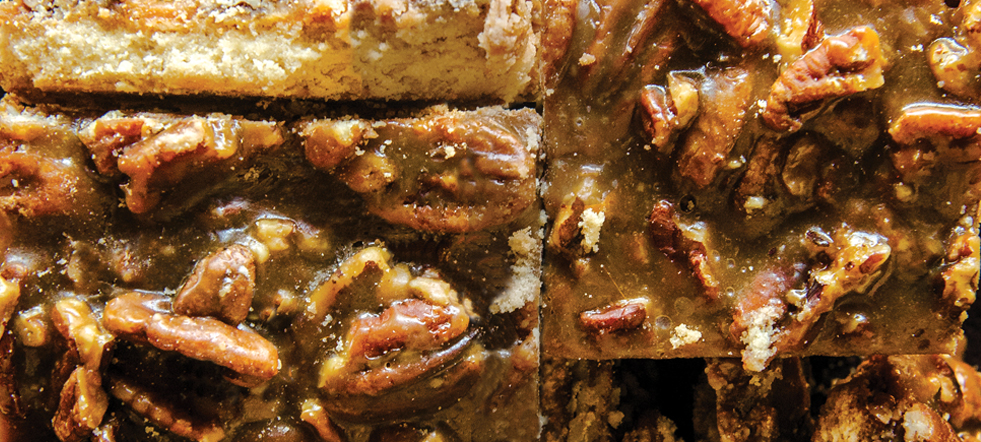 Birch Syrup Pecan Pie Bars
Sweet and fruity birch syrup gives this buttery treat a Manitoba spin
INGREDIENTS
2 cups all-purpose flour
1¼ cup light brown sugar, divided
1 tsp sea salt
1 cup cold salted butter, divided
1 cup light corn syrup
¼ cup birch syrup (The Canadian Birch Company)
2 large eggs
1 Tbsp vanilla extract
2¼ cups whole raw pecans
METHOD
1. Preheat oven to 350°F. Line a 8×8 baking dish with parchment. Set aside.
2. Combine flour, ½ cup of light brown sugar, ½ tsp salt, and 3/4 cup butter in a food processor and pulse until mixture begins to form small lumps.
3. Sprinkle mixture into the baking dish and press, creating an even layer of shortbread crust. Bake for 20 minutes or until golden brown in colour.
4. To make filling, melt the remaining 1/4 cup of butter in a medium bowl. Whisk in the corn syrup, remaining ¾ cup of brown sugar, birch syrup, eggs, remaining ½ tsp salt, and vanilla extract. Add pecans and stir.
5. Pour onto prepared shortbread crust. Bake for 20-25 minutes until the center is set and the pecans start to brown.
6. Cool the baking pan on a wire rack. Remove from baking pan and allow to cool completely before cutting and serving.
Yield 9-10 servings.