Chef Stéphane Wild brings the comfort food of Alsace to Winnipeg's French Quarter at Bistro Chez Sophie
by Jen Zoratti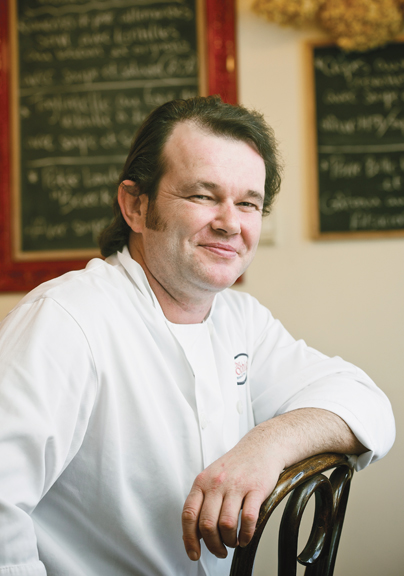 Keep it simple, but get it right.
So goes Chef Stéphane Wild's guiding principle for running Bistro Chez Sophie, his quaint postage-stamp piece of France in St. Boniface. This cozy spot embodies the spirit of bistro culture; it's the kind of place where two-hour lunches spent catching up over red wine is de rigueur. Classics by chanson icons Edith Piaf and Jacques Brel set the mood, while an accordion rendition of the eternally romantic Sous le ciel de Paris instantly transports you to the City of Light. Even the rustic charm of the décor is spot-on French country, from the artfully mismatched chairs to the specials scrawled on chalkboards — en français, but of course.
That unflinching attention to detail is reflected in Wild's unpretentious, back-to-basics menu. Serving authentic bistro staples such as boeuf Bourguignon, moule et frites and crêpes is a source of pride for the kind-eyed 42-year-old chef, who laughs easy and often. Over a stolen moment and a cup of coffee before the weekday lunch rush hits, he emphasizes the importance of what he calls 'true cooking' — time-honoured family recipes prepared with care. Chef Stéphane's English is limited, so server Caroline Rousseau is translating. (She calls herself 'the head waitress' and, although she's that, her management and organizational skills would be the envy of any restaurateur.)
Sincerity is indeed what sets Chez Sophie apart. "A lot of French bistros try too hard and it comes across as cheesy, if you will," Chef Stéphane says. He has a point; after all, the French don't eat foie gras and caviar every day. Chez Sophie is in the business of comfort food, made with cream, butter and funky cheese. It's estimated the kitchen goes through six to eight pounds of butter per week and four wheels of Trappist cheese a month.
Wild hails from Alsace, a bucolic region in eastern France located along the Rhine across from Germany and Switzerland. It also happens to be one of the most well-known regions in this culinary country, famous for the kind of dairy-rich food Chez Sophie serves. He comes by his passion for food honestly, having grown up surrounded by cooks. "I got all my techniques and recipes and the joy of cooking from my family." And he's passed them on. His son, Trevor, operates La Crêperie du Pont on the Esplanade Riel. Chef Stéphane started working at his grandfather's butcher shop when he was 15 before serving a year in the French army at 17. Upon his return, he was a cook at various restaurants, including his uncle's, before opening a candy shop in Alsace that he operated until he immigrated to Canada in 2005.
Though familiar with running a business, it was never his dream to open a restaurant. It was Wild's dream, however to move to Canada — and, in a twist of fate, the opportunity to open a restaurant was his ticket across the Atlantic. He responded to an ad posted at the Alsace Chamber of Commerce by CDEM, a Manitoba organization that encourages and supports economic development in bilingual communities, seeking French artisans interested in starting a business in St. Boniface. During a 10-day visit to Winnipeg, he fell in love with the French Quarter and decided to embark on a new venture.
Of course, there would be no Chez Sophie without Sophie, Chef Stéphane's business partner and wife of 22 years. The couple met at a discotheque back in Alsace. "It's not very romantic," he admits with a laugh. While Sophie handles the back-end details, her fingerprints are all over the bistro, from the dried hydrangeas lining the back wall to the bright red chandeliers hanging from the ceiling. "She's very eclectic and artistic," Wild says fondly of his wife, who also makes her own jewellery that she sells at the restaurant.
_____________________________________
We've got something here.
_____________________________________
Then there's the name. "Chez Sophie sounds very French. It sounds better than Chez Stéphane," he says with a playful smile. (Smart man, that Chef Stéphane.)
The Wilds opened Chez Sophie just months after arriving in Winnipeg, taking over Aladdin's — one of St. B's most popular take-out pizza joints. Pizza was kept on the menu, but made a little differently. A true taste of Alsace, the cream-sauce pizzas for which Chez Sophie is reputed are a take on flammekueche, a famous delicacy from the region.
The menu's expansion to include other French favourites was intentionally gradual. Chef Stéphane felt out his new clientele and welcomed criticism from his patrons, a feedback loop that remains essential to his process. "I get anxious about hearing what people will think, but I always look forward to the response."
Wild gets especially nervous about hearing from French food traditionalists. He, too, is an ardent purist; unlike many French eateries in the neighbourhood, you'll never find poutine or tourtière on Chez Sophie's menu.
While many of the bistro's regulars are francophone, Wild underlines the importance of Winnipeg's anglophone community, for whom his restaurant offers the exotic. His keep-it-simple ethos is paying off; the tiny room is almost always packed elbow to elbow with diners. "That shows it's working. It's important not just for stability, but for the reputation of the restaurant.
"It shows we've got something here."
Mais oui, something very special, indeed.
Included with this article are four online recipes (below), from Chef Stéphane Wild of Bistro Chez Sophie. Follow the links provided and try the recipes for yourself.These recipes are also available in ciao! magazine's print edition and can be found at local Winnipeg specialty food and wine stores.
Smoked Salmon Crêpes
A palate-pleasing combination of salty smoked salmon
and creamy Béchamel sauce is packed into these cheesy,
chewy, cover-worthy crêpes.
Black Salad


Smooth chocolate, sharp Parmesan and savoury balsamic vinegar perfectly coalesce in this surprisngly sweet and simple salad.

Veal Cutlets in Cream Sauce
Melt-in-your-mouth veal is made richer by a homey,
well-spiced cream sauce and punctuated by flavourful bites
of bacon and earthy mushrooms.
Cherry Cheesecake
While this fluffy, soufflé-like dessert may be called a cheesecake,
it doesn't actually contain any cheese. Still, it's every bit as decadent as its namesake.