Era Bistro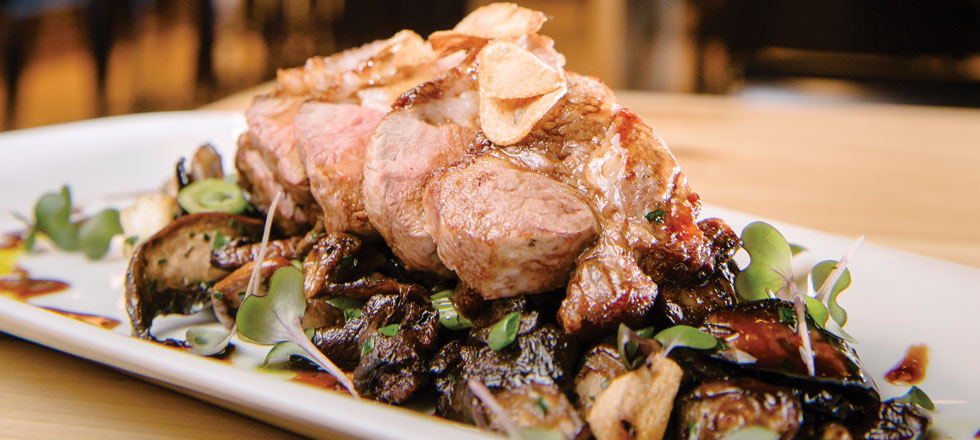 Neighbourhood: The Forks                                                                            Manitoba Lamb Loin
Address: 85 Israel Asper Way
Phone: 204‑289‑2190
Entrees: $19-$33
Located in the newly opened Canadian Museum for Human Rights, Era Bistro offers a space to commune and connect. The restaurant reflects the beauty of the space, while taking up the museum's mandate with a focus on sustainability, equality, and locality.
Communal tables, friendly servers, and a spotless open kitchen reinforce an intimate atmosphere for which the 'bistro' moniker is apt. The swank décor doesn't sacrifice warmth for style, with a palate of muted shades that mirror the museum's naturally-inspired design and bold elements, like a centerpiece of tangled metal rings that hangs above the room.
Imaginative and beautifully plated dishes match the sleek setting. Executive chef Barry Saunders, as he has at The Current for the past 10 years, proudly touts local, vegetarian and gluten free fare, as well as in-vogue ingredients. Young beets (both red and golden) tossed in a divinely creamy red wine dressing, scattered with pine nuts, and piled high with fresh microgreens are a reminder of why this Manitoba garden staple has gained its fashionable status. The popular penchant for updating the French fry makes its way onto the menu as well, but Era's version, made with carrots (not yams) are sweet, beer-battered slices, served alongside a kicky buttermilk jalapeño dip.
Manitoba delicacies are in no short supply on the shareable small plates menu. Warm pickerel cheeks coated in crispy panko breading pair with tart lemony remoulade. Small morsels of updated bannock, flecked with fresh herbs, arrive ready to be slathered with honey-drizzled ricotta, spicy tomato tapenade, or chickpea hummus. Wonton tourtiere and poutine topped with beef short ribs reveal harmonious multiculturalism indicative of the diversity that makes up our city.
Entrées are artfully composed from a palette of classic pairings and under-used ingredients. Salmon shares the plate with a stack of crisp sautéed fennel, the oft-overlooked, licorice fragrant vegetable a complement to the lightly flaky fish and its bright, nutty herb crust.
Manitoba lamb is sliced into tender pink coins and piled on sautéed mushrooms drizzled with a rosemary gastrique that perks the tongue with a soy sauce tinge of salinity. Other regional proteins like arctic char and venison make up the menu, reinforcing their locality with pairings like sour cherries, beets, and golden caviar.
Vegetable-centric offerings show Saunders is able to play just as nice with meatless meals, like the root vegetable Wellington. Slices of carrot, turnip, and parsnip tucked under a flaky crust lend the traditional pie an earthy, bittersweet crunch. Smoky red pepper ragout, crispy fried cubes of polenta and a stack of juicy oyster mushrooms accompany the dish.
You'll want to linger, and the dessert selection makes it easy. Chocoholic heaven, the Brooklyn blackout layers a hearty helping of chocolate cake with rich frozen chocolate mousse and a swipe of tart raspberry coulis.
Glasses of wine and after dinner coffee are guilt free indulgences, as all offerings are fair trade. Era's regional ingredient-packed menu and nods to ecological and social sustainability not only come from its location, but its own, somewhat lofty, personality: a belief that food has power to create hope and change.
Era Bistro is open for lunch Tue-Sun 11 am – 4:30 pm, for dinner Wed-Sat 5 pm-10 pm.
© 2014 All rights reserved. Reproduction in whole or in part is strictly prohibited.
---
Cibo Waterfront Café
Neighbourhood: The Exchange
Address: 339 Waterfront Dr
Phone: 204‑594‑0339
Entrees: $12-$35
Italian cuisine is engrained in the food culture of Winnipeg. Pastas, pizzas, and panini appear on many contemporary menus to cater to masses and youngsters. This broad appeal is what makes well-executed Italian fare so revelatory: the notion that simple, well worn classics can become fresh and new through creative interpretation.
Cibo was added to the city's mix of stylish table settings when it assumed its place in the restored Red River Pump House last summer. This charming exposed brick space with its soaring ceiling, hardwood floors, and enormous windows, got its start in the 1950s as a water cooling station for the steam plant across the street. Today, the space is far from industrial, with a craft-focused kitchen spinning modern hybrids of Mediterranean flavours and Canadian favourites.
Chef/Operator Stephen Pawulski, a grad of the Red River College Culinary Arts program, builds on a foundation of quality ingredients, with culinary components culled from local sources (artisanal breads supplied by Stella's bakery) to faraway farms in Italy. Atlantic salmon pairs with French lentils, served skin side up to showcase a crispy pan sear and garnished with crunchy fried leeks. Small plates include arancini, perfect orbs of risotto, herbs, and baby bocconcino cheese rolled in breadcrumbs and fried golden brown.
While Cibo takes a modern angle on Mediterranean cuisine, interpretations are never over-wrought, and Pawulski proves equally adept at rustic Italian favourites. Slowly simmered Bolognese turns tomatoes, wine, and rich veal stock into a silky sauce that is tossed with pappardelle and brightened with peppery arugula. Caesar salad, too, needs no improvement, a tried and true blend of perky lemon and hints of anchovies.
Authentic Italian panino are also on the menu. Vegetarians can dine on a roasted vegetable variety spread with hummus, cucumber, roasted peppers, and caramelized onions. An equally delicious Spanish chicken sandwich is slightly earthy with manchego cheese and grilled red pepper, laid on a bed of aioli for a garlic kick.
A handful of desserts includes Callebaut chocolate five ways –  flourless cake topped with chocolate ganache, plated on 'soil' made from dehydrated cake crumbs, garnished with house made chocolate candy and shredded white chocolate. An affogato offers espresso over ice cream with a shaving of Callebaut and a gluten free wafer.
The service is excellent and the ambiance is compelling. In a happy after-dinner haze, gazing at exquisite views of the Canadian Museum for Human Rights and a glittering evening skyline through decades-old windows, reflective diners may be tempted to see how Cibo's blend of old and new so perfectly mirrors our ever-changing city.
Cibo is open Sun-Thu 7 am-midnight and Fri & Sat 7 am-1 am.
© 2014 All rights reserved. Reproduction in whole or in part is strictly prohibited.
---
The Tallest Poppy
Neighbourhood: West Broadway
Address: 103 Sherbrook St
Phone: 204-219-8777
Entrees: $9-$15
When The Tallest Poppy opened its Sherbrook St location in late September, line ups stretched out the door. Now, months later, the eagerly anticipated eatery is still in hot demand, satiating its loyal following with plate after plate of a hearty, housemade blend of local favourites and comforts borrowed from the deep South.
Originally a tiny morning spot on  North Main, the cozy restaurant led by Talia Syrie has blossomed in its new location in the Sherbrook Inn to include lunch and dinner options as well as several more tables.
Hearty breakfasts are carried over from the previous location, many accompanied by a personal gravy boat. Even the most ardent green smoothie supporters will be wooed into indulging in a spread unapologetically packed with eggs, cheese, fried foods, and bacon. Buttermilk-fried chicken and waffles is savoury and sweet with a drizzle of maple syrup, the chicken a stand out for its tender steaming meat and crackling, well-seasoned crust.
The lunch menu bursts with sandwiches, burgers, and soups with wide appeal. In the suddenly sharp competition on Sherbrook Street for tastiest sandwich (those in the ring include Stella's, Boon Burger, and newly opened Sherbrook St Deli), Syrie holds her own with succulent and tender beef brisket piled with tomato and horseradish aioli on thick cut bread.
The space itself is equal parts living room and gallery. Paintings by local artists, wall-sized murals, and a colourful tiled ceiling reminiscent of Mondrian are thrown into the mix with mismatched chairs and decorative antiques that transform this pre-loved, hard living space.
The penchant for soul food is clear on the dinner menu, which radiates comfort. Brisket and crispy fried chicken make an appearance in entrée form, as do Southern styled cornbread-topped tamale pie and roasted ham served with baked beans.
Bison meat loaf blends this homestyle cooking with local flavour. Beautifully juicy, thick slices come drizzled in rich signature gravy, with a boatload more on the side. A bean and pepper loaded sausage stew, served over rice, riffs on jambolaya, hitting all the right smoky notes.
Swoon-worthy collard greens, rarely seen this far North, are perfectly prepared, the sour, tangy notes of the greens balanced by salty cubes of pork.
A seductive glass dessert case is loaded with oft-changing varieties of pie, like mellow sweet potato, shot through with brown sugar and cinnamon. The perfect end to a hearty, homestyle meal, a generously cut slice imparts the happily overstuffed feeling that signals good hospitality.
The Tallest Poppy is open Tue & Thu 11 am-11 pm, Fri & Sat 8 am-11 pm, Sun 9 am-9 pm.
© 2014 All rights reserved. Reproduction in whole or in part is strictly prohibited.
---
De Luca's

Neighbourhood: Downtown
Address: 950 Portage Avenue
Phone: 204-774-7617
Entrees: $4-$11
Imagine a Mediterranean market with imported Italian specialties where neighbours gleefully chatter amongst rustic, made from scratch cuisine. This is De Luca's.
The market meets café delivers meats, cheeses, herby sauces and coveted sausages made fresh in the deli. Oven ready cannelloni and lasagna prepared by in-house cooks are go-to pairings with De Luca family brand of marinated tomatoes, olives and roasted red peppers. Enticing shelves hold bottles of aged balsamic vinegars and extra virgin olive oils. Five bottles line the Tasting Counter ready to be slurped.
With your palate prepped, nab a quick bite in the mezzanine level café where a seductive aroma of lunch wafts through the air. Energy radiates through the space; warm lighting, happy cooks and mirrored walls create a homey feel. No waiters, no mood lighting, or floral centerpieces, but a convivial spirit ripples throughout the room. A group of Italian men boost spirits of those around them with their story telling, joking and flirtatious gestures. Round tables seating about 8 encourage chatter as strangers tuck in close to get a spot.
The lunch menu features a daily changing line up of unevenly shaped pastas (3 each day) from which to choose, with soup and cheesy pizzas. Colourful salads with crunchy greens shine with simple red wine vinegar and olive oil from the top shelf ingredients downstairs.
Sip on surroundings with a cappuccino and follow the redolent sweetness coming from the bakery to tiramisu and cannoli.
De Luca's old school cooking has remained in style, reminding us just how comforting authenticity can be.
De Luca's is open for lunch Mon– Thurs 11:30 am- 1:30 pm, Fri 11:30 – 2:30 pm and 5:30 pm-8:00 pm and Sat 11:30 – 2:30 pm.
© 2014 All rights reserved. Reproduction in whole or in part is strictly prohibited.
---
Lucky Supermarket
Neighbourhood: West End
Address: 1051 Winnipeg Ave
Phone: 204-272-8011
Entrees: $6-$10
The awning-covered entranceway flanked by lion statues should prepare a first time visitor for something grand. Inside Lucky Supermarket, curious shoppers browse aisles overflowing with imported, hard to find gourmet items like Japanese snacks, South Asian sauces, and Indian spices.
Those in the know don't shop hungry, and Lucky's expansive hot food table is the ideal place to stop and sample. An eating area tucked into a sunlit corner by the store's front windows, with glossy dark wood tables and intricately embroidered, cushy chairs, is somewhere between food court and cafe.
A steaming dim sum station piled high with bamboo rounds serves dumplings and buns, while the Vietnamese báhn mì (sub) counter offers choice toppings. Hot entrees in a buffet style spread are heartily piled in to-go containers. Angel hair noodles flecked with shreds of carrot and green onion are the perfect vehicle for fatty beef and baby bok choy swimming in a rich peanut butter broth, or a vibrant mix of steamed vegetables tossed in a lightly sweet sauce. Chinese classic ginger beef is a must – the chewy, crispy coated steak smacks of fresh ginger, with a lingering buzz of heat.
Spring rolls and other snackables sate spontaneous urges. Fist-sized, spongy sesame balls release the toasty smell of browned sesame seeds on first bite, a nuttiness complemented by creamy red bean paste filling.
Behind glass, rows of hanging lacquered barbequed ducks and hunks of char sui (barbeque pork) are chopped to order with a few menacing swings of a meat cleaver. The juicy, honey-sweet meat is sold by the pound packaged for take out, and is worth a special trip when last minute weeknight dinner planning is in order.
Hunger pangs assuaged, take another turn through rows of exotic fruits, tanks swimming with seafood, and a packed kitchenware aisle. Vast selection, bustling atmosphere, and mouth-watering flavour makes this gem of a market a destination for adventurous cooks city-wide.
Lucky Supermarket is open Mon-Sat 9 am-9 pm, Sun 12 pm-6 pm.
© 2014 All rights reserved. Reproduction in whole or in part is strictly prohibited.
---